About Me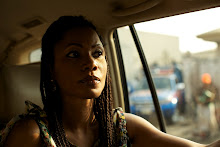 Funmi Iyanda

Lagos, Nigeria
Funmi Iyanda is a multi award-winning producer and broadcast journalist. She is the CEO of Ignite Media and Executive Director of Creation Television
View my complete profile
Thursday, November 29, 2007
Thursday, November 29, 2007
|
Posted by Funmi Iyanda
|
|
Edit Post
Still swamped and fire fighting on 3 simultaneous projects to be delivered in December and unveiled (oh the mystery...
yeye
woman) soon. I am therefore unable to function beyond autopilot on anything else however I can still laugh at a good video and a cover story. My little brother sent
this
to remind me of why I used to punch him and
this
which is just cute.
Then there is
this piece
on Zanele, I admit I don't really understand what is sexy to the average Joe but I have always maintained that it is not size zero. Get a load of the rack on that chick, I want to see the red blooded male who will say no to all that milkshake, even I want me some (put your eyebrow down jo, its not what you think).