About Me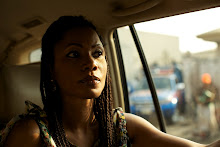 Funmi Iyanda

Lagos, Nigeria
Funmi Iyanda is a multi award-winning producer and broadcast journalist. She is the CEO of Ignite Media and Executive Director of Creation Television
View my complete profile
Wednesday, May 30, 2007
My friend V, a perfectionist who on falling pregnant eight years ago decided to put her career on hold and devote her time 24/7 to the care of her new born daughter has had some serious hard times. Regal, literate, intelligent, civil, funny, self possessed, more than a little stubborn are all apt descriptions of a woman who is a great mum, a loyal friend, one of those rare people who can be counted upon to look you in the face and tell you the unflinching truth even at the risk of loss of friendship, livelihood or approval. Her mini me daughter has inherited her mother's gift for slightly unsettling non-pussy footing eerily concise summary. Recently, V got the sort of job to suit her situation and temperament and moved to Abuja. When asked what she likes about Abuja, V's 8 yr old simply replied, we always have light and when we don't we put on the generator. Every child l know and a lot whom l have interviewed have repeated different version of this simple truth i.e. just give us light.
Yesterday l sent my man Joel to buy the 3rd (in 48 hours) N5, 000, 50 litres keg of diesel for our long-suffering generator just so we can watch the inauguration ceremonies in Abuja and Lagos. 8 years ago, l had been a young hot head in Ankara running around organizing and anchoring different inauguration activities in Lagos. 8 years on l am party weary and growth hungry so l turned down all invitations to inauguration activities at every level. My friend Jide was making one of his famous cooked breakfasts at mine for his family, mine and a couple of friends as we indulged in our favourite national pastime, talking about Nigeria. We watched as a sour faced Obasanjo hand over to an inscrutable Yar'Adua. One of the eminent citizens at the inauguration benignly smiling at Obj sent a text to Jide's phone simply saying
JUST GO
. That text sadly sums up the feeling of majority of Nigerians about Obasanjo right now. Whether that is deserved is a topic for another discussion.
7 am today l am on my desk struggling to write through the guttural screams of what feels like a thousand demon generators. Shortened lifespan from pollution and noise aside l am lucky, at least l have light, my wax mistress (that is not what you think it is silly) Barbra assures me that her neighbourhood has not seen electricity in 2 months as she walked into my room, pulls off her blouse and lays prone on the floor to "enjoy small ac" before she starts work on me, l can hear African China crooning the many woes of the masses into her ears through her mp3 player. Her phone ring tone breaks our moment with china's primal scream "light no dey, food e no dey, my people dey suffer suffer".
Back to yesterday, one of my breakfast guests is telling of how many of OBJ's people has assured him that there is no cause for alarm as "dem still dey kampe" because Yar'Adua has been mandated to keep them on. The other guest is talking about alternative energy to power the base stations of the telecoms companies as they grapple with the humongous challenge of running their operations in a country with huge power problems. I gently remind everyone that we would have to break up our "party" in an hour to conserve the diesel, generator and our sanity.
Its 9am today, we have not had electricity for four consecutive days in a neighbourhood with a PHCN base station within a shouting distance, what must it be like for others? I send Joel to buy more diesel and some fuel at the new pump price, OBJ's passing shot. Joel gives me the papers for the day and Yar'Adua picture is on the cover of THISDAY. His wave is frail, he looks exhausted but his eyes seem earnest, perhaps it is optimism of desperation but l feel moved to pray silently that somehow this frail unlikely man may yet confound his puppeteers and go beyond that to do just three things.
a. Give us light.
b. Reform, rebuild and modernize our educational system and make
education free and mandatory to all children born on this soil up to
secondary levels with opportunities for scholarships to poor gifted
children at university level.
c. Tackle security from its root, reform, adapt, equip, grow, motivate, remunerate, and devolve the police. I If he would just do these three things we can take care of ourselves and others will be happier to deal with us i.e. self sustaining, growth and adaptive globalization will follow.
In all of this l hope that he will always remember that his name is umoru, not baba, not god, not messiah, not prophet, just umoru who has been given a unique opportunity by Allah for true greatness. Whether he will rise to the occasion only time will tell. Time now to switch on the generator for 6 work hours.
BTW
What was all that "olokada" display at the inauguration ceremonies, in today's world? Shio! Surely, we can do better than that. And why does a ceremony which should be solemn and civil look like an owambe party with people running all over the place and in front of the camera. In Lagos, there was a point where Tinubu was obviously exasperated and gestured at some aide to get away from him. Haba!