About Me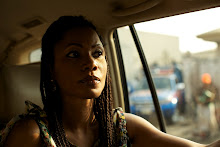 Funmi Iyanda

Lagos, Nigeria
Funmi Iyanda is a multi award-winning producer and broadcast journalist. She is the CEO of Ignite Media and Executive Director of Creation Television
View my complete profile
Thursday, April 05, 2007
Thursday, April 05, 2007
|
Posted by Funmi Iyanda
|
|
Edit Post
Pix: Kaine Bode George, Adebayo Jones, Florence Ita-Giwa, Remi Osolanke (Remi Lagos) and myself
l really should write a Bridget Jones like diary, l returned two days
ago from the long awaited opening of the much-publicized TINAPA
business and leisure resort in Calabar, deaf in one ear and coughing
my guts out. A case of wrong diagnosis or fake drugs or both.
I should not have gone as l had caught a bad flu on the eve of my
departure but l bought into the hype and felt that I'll be missing
something if l did not go. Plus l wanted to meet my friend Pamela's
mum Professor Eka Braide the Vice Chancellor at the university. The
professor, bless her did not disappoint, a woman the way they don't
make them anymore, intellectual, dignified without vexatious piety,
resourceful, nurturing and hospitable. None of which can be said about
the arrangements for either the so-called Calabar Fashion Week, the
Nigerian Movie Awards and to some extent the commissioning of Tinapa
itself.
The fashion week was a really a tacky exhibition in a porky little
room and a shadowy fashion show in a passageway at an unimaginative
boat club set in the most gorgeous body of water. Even the attempt to
take us to TINAPA by boat from the club with full military and police
protection and hardware took 70 minutes for a 20 minute ride, the boat
broke down twice, had to be changed, then broke down again. The
business resort opening began with the rude accreditation and card
verification process at entry and the disruption of the order of the
events such that we were kept waiting in the admittedly huge, well
organized and cool hall for almost five hours before the president's
arrival. By the last speech, l led the mutiny at one of the food
serving points as my blood sugar plummeted to zero.
The TINAPA project is no doubt audacious and visionary and Donald Duke
must be commended for even attempting it against all odds especially
given the lack of performance of other governors in the region with a much fatter resource bank. However, l am concerned as to how functional
it will be in its locale. Aside TINAPA itself the traditionally clean
and hospitable Calabar lacks the number and quality of hotel rooms to
be attractive. The idea of a localized tourist haven within a country
without a defined tourism agenda or policy, very poor infrastructure
and formidable security challenges seem unsustainable to me. It might
be doable if the visioner is there to steer the course in the first
few crucial years but Donald Duke would cease to be governor of Cross
River state in the next few weeks. The successor in the wings l am
told is his ally and shares his vision enough to actualize the dream
but if that happens it will be going against the grain of all l know
about Nigeria and politics. Is Liyel Imoke not the man who as minister
of power declared that even with billions of dollars in lifeline
Nigeria will not have constant and stable power for another 50 years,
hardly visionary nor revolutionary thought there. Besides l am yet to
see the Nigerian politician who is non egotistical enough to happily
actualize another politicians' vision.
TINAPA is maybe about 70% completed, the 300 bed hotel is still being
built, the mono rail is not yet built, the port on course and the
Nollywood complex is nearing completion but this to be used by who?
The idea of TINAPA is based on its being a free trade zone, a duty and
tax free haven where international goods can be bought cheaply in a
touristy haven with entertainment and culture on offer. However, both
the president and the minister of commerce did state clearly that they
expect that most of the goods traded will in no time be locally
manufactured. A joke really considering how the continual decline in
infrastructure, power and assess to non-incestuous capital has
strangulated manufacturing and enterprise in the past few years.
As a free trade zone with functional facilities and easy mass
transportation, TINAPA can work; l would love for it to work and
perhaps the private sector participants will ensure this. Even with
only internal tourism, the number of Nigerians who will be persuaded
to buy international good and products cheaply for resale or
consumption is considerable and there is a large enough expatriate
community and middle class adventurers who might be attracted to a
secure, fun, entertainment and shopping destination within Nigeria.
Any attempt to alter that will kill the TINAPA dream. As per the
Nollywood studio (is the gorilla stature at the entrance a reference
to the Neanderthal state of our movie industry?) it will no doubt make
a cheap production venue for foreign movie and TV producers. As per
Nollywood practitioners, unless the use of the studios is free l don't
see how they can use the facilities effectively without a committed
engagement from the financial sector. Even if they get the money to
use such facilities, pay huge artists and professional fees, buy
better stories and build immressive film sets to produce better
quality films, what about the challenges of promotion, distribution
and piracy, which will erode the potential profit from such huge
invested capital. Once again we are back to the issue of basic
infrastructure. The ability to move large numbers of people, goods and
products all over the country. The generation of power effectively
and constantly, sustaining industry at every level and the ability to
guarantee lives and property. These are the building blocks of
prosperity.
That said, l commend Donald Duke for this courage. He was calm and
gracious during the chaotic ceremonies and spoke eloquently and
convincingly. My only grouse with him was when he started to frown and
fidget during the lacklustre fashion show at the dramatically non-professional and unimaginative Nigerian movie award. This when a couple of models came out in transparent REMI LAGOS caftans with only their tongs on beneath. The only artistic and exciting part to an other wise dull fashion show. Maybe it was because his young daughters were in the audience (children under 10 should not have been at a show
that started at midnight anyway, did he hear the lyrics of konga and other such explicit songs being played?) or because of his lovely but obviously conservative wife (conservatives don't go into core fashion, music, entertainment and sports business) but he was frowning for Africa. My mischievous mind is wondering, why doth thou protest so much? It's a fashion show, bare flesh happens, its art, lighten up.
More Pictures
here