About Me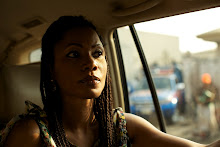 Funmi Iyanda

Lagos, Nigeria
Funmi Iyanda is a multi award-winning producer and broadcast journalist. She is the CEO of Ignite Media and Executive Director of Creation Television
View my complete profile
Monday, May 26, 2008
This was originally an email to my
Tutu Fellows
around Africa but I have edited to fit an open letter mode as I feel the issues are deeper and more complex than my last emotive post would suggest. The challenge of a situation such as this is not only to SA or her leadership but the entire continent.
Dear brothers and sisters,
I wrote this almost a week ago but was unable to send it as we have had total black out in several parts of Lagos as well as attendant problems with telecommunications and Internet connections. This coupled with a stalled economy, complete lack of political direction, militancy, inflation, unemployment, rising crime, rising food and diesel price (which powers generators which we all live on, my older friend has invested over N60m in her business in the past 3 weeks 60% on power, her brand new super industrial generator exploded yesterday). I sing you this little dirge, which is just the story of our unique questionable resilience as Nigerians and perhaps one of the reasons Nigerians are seemingly so aggressive and abrasive to others. It is also the reason for economic migration and the celebrated inexcusable scam artistry and crimes (performed by a small but loud percentage of Nigerians). This state of affairs is the real reason for continued religious, ethic and class intolerance and polarization in Nigeria. The result are flash points of conflict some in the past, as graphic as what we see happening in SA (of course Nigeria does not get as intense an international media scrutiny as SA and perhaps the world's media has disaster fatigue towards Nigeria).
The point I make in usual long torturous manner is that the underbelly of xenophobia, prejudice and exacerbated crime is huge economic disparity, the inability to provide a level ground for all to pursue happiness, injustice (past and present), political brigandry, corruption and graft. This of course is long code for bad leadership although I will continue to be fascinated by the idea of bad and/or complacent or complicit follower ship. This is a global issue but Africa continues to take the cake and make the damn cake in this regard. No country is immune, I have studied Nigeria's slide from a rich, promising, functioning civil nation to this state of suspended anarchy and near total dysfunctionality (no matter what the briefcase economics analysts say with meaningless bars, charts and fancy presentations having dodged bullets and pot holes to make same presentations in a generator powered office without running water). I saw Zimbabwe in her fragile (I had noticed the huge discrepancies of class, resource, color and reality) beauty in 1995 at the All Africa Games and now this, barely a decade later. Ditto Kenya, It may sound alarmist now but no matter how glorious SA may seem now in her promise, she can quickly descend the way of others before her. This will not be a result of single incidences like the current situation but underlying issues of representative economy policies, innovative, enforceable all inclusive education, mass education and orientation on tolerance, (race, religion and nationality), economy dynamism and zero tolerance towards corruption and bad leadership as well as an educated and vigilant follower ship. This underscores the reason for an initiative like AfLI and the need to understand the depth of our unique generational challenge. I am often dismayed by the inability of gifted young people to see the errors of the past, the urgency of the present and the dangers that await us in future.
I am impressed by the debate of the past week and wish we had the kind of powerful African media platform to have raised these issues, that said I do agree that a position paper often comes across as impotent but I disagree about quiet diplomacy, in true African tradition, most of our political leaders should be taken to the village square, read a condemnation from the gods and banished from the empire:-). Yes there are well-meaning leaders but when the house is burning you must not whisper in alarm but shout. The people from whom they borrowed quiet diplomacy are known to loudly abandon it when it becomes expedient for their national or continental interest. The EU is a bastion of diplomacy and point-to-point negotiation built on lessons learnt from centuries of conflicts, agitations and wars. We cannot paper over our problems, they will become gangrenous. True bravery and ensuring progress lies in honest self examination and will to chart a better course based on the wisdom that comes from a real understanding of the non symptomatic issues. Yes I agree that the SA AfLI fellows should practically help on with aid and materials, it appears small but every life counts, beyond that what could also help is sort of like an armchair virtual advocacy which can surprisingly work to effect not only some immediate action but huge awareness and education of those reached. This must be in conjunction with organized and focused on ground country to country advocacy on areas and issues that directly affect development, sort of an ideological revolution.
Also important is the need to identify simple but far reaching policy changes, which can be championed. Finally we must continued to become enlightened and expand the circle of enlightenment perhaps one day some of us will be in the unique position to make those changes and will thus be fully prepared to be these great leaders who builds the good society. However like all muscles, leadership must be practiced at all times or it will atrophy or wear out and certainly be unusable when the race starts.
My prayers for and deepest regards to you all.