About Me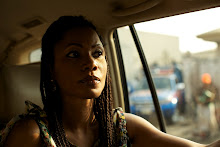 Funmi Iyanda

Lagos, Nigeria
Funmi Iyanda is a multi award-winning producer and broadcast journalist. She is the CEO of Ignite Media and Executive Director of Creation Television
View my complete profile
Friday, February 16, 2007
One of my friends called me in a panic last week and said, 'did you
hear? She is dead, Anna Nicole is dead". My hard drive whirled in
confusion for a full minute, then she said, "you know, the glamour
model, ex wife of the geriatric millionaire, law suit with his kids,
weight battling, alcohol addled brained, reality show star, son
tragically dying right after birth of multi paternity battles child
Anna Nicole Smith". Oh, l said, that Anna! The last time a thing like
that happened was with Diana Princess of Wales when a friend shrieked
down the phone in Abacha darkened Nigeria, She's dead, lady Di is
dead. I thought it was our own lovely lady Di Oputa and was about to
call Charly boy when she said l know the royal family killed her, then
my slow brain got it.
I will never cease to be amazed at the insatiable quest for and
interest in the affairs of others that fuels celebrity culture or the
inability of people to see that it is all about commerce and recognize
that the over exposed celebrity is often herself or himself a victim,
a pawn in a brutal game they are usually to begin with not privy to
the rules and future consequences.
Of course celebrity is a bastardization of fame. In the true sense,
fame and acclaim should come from the body of work or achievements of
an individual but since it became isolated as an entity to be traded
with impunity, the casualties have increased.
I always curtly state that fame is a by product of my job, one l do
not crave or particularly enjoy, fortunately it just has never
penetrated my subconscious so l am still often startled when people
stare at me and truly embarrassed when they gush, genuflect and hug
me. I am deeply respectful of the love and support and hurt by the
misunderstanding and sometime hatred but l did not choose it and in
Nigeria where it is so cringingly and cheaply purchasable, l avoid it
as much as l can without hurting my career. Although, come to think of
it you sanctimonious so and so Funmi, in Nigeria, if you are not a big
man, a rich man, a famous man or any combination of the three, isn't
your arse grass?
Ms Nicole's death, far as it is from my own realities and environment
is non the less a tragedy, no amount of money in the world can be
worth the media circus of the life she lived and that poor child of
hers, what is to become of her?