About Me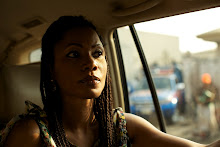 Funmi Iyanda

Lagos, Nigeria
Funmi Iyanda is a multi award-winning producer and broadcast journalist. She is the CEO of Ignite Media and Executive Director of Creation Television
View my complete profile
Friday, November 02, 2007
Friday, November 02, 2007
|
Posted by Funmi Iyanda
|
|
Edit Post
Have you seen him? Tell me you have seen him, did you notice the gap, the smile, sandhurst/oxford/Harvard education too, please please tell me he is single. It is almost midnight and I'm right in the middle of a tug of war between sleep and one of the giants. What is eating her I wonder as I croaked who? The new speaker of course, have you seen him? Do you know him? When are you going to interview him, is he single?
Its 7.40 a.m. now in Lagos and that scenario has been played out over 6 six times by different excited females so as an advocate of all that interests and give women joy, I called Hon Femi Gbajabiamila whose phone was switched off, I forget, politicians are not morning people. Why Femi, well it just happened that I ran into him last week at his wife's lovely and quaint café salamander in Abuja and he had
Dimeji Bankole
in tow.
As is his tradition Femi goes for my jugular on the effect of Ettehgate on the political progress of Nigerian women. I bark back and hard, Femi digs in deeper on other areas of my (in his words) rabid feminism and elements of the media, I prepare to go from bark to bite but then, in steps a soft but firm voice with a trace of a British accent bearing a pearl of down to earth logic. Who be dis I wonder even as Femi and I carry on, it's a game, and we both know it and love it. It called lets argue just to check the health of the old grey matter.
So ladies, that's my one and only encounter with the
37 year old new speaker
, all I can tell you is that I am prone to feel people before I see them and what I felt from that encounter was good. For one he did not piss me off with some stuffily dressed, pretentious, supercilious, ridiculously exaggerated British public school accented brand of bullshit. He was courteous, smartly dressed in simple
bùbá and sòkòtò
, listened and made meaningful contribution to the conversation. In the interest of research I have dug up this little
tit bit
and discovered that he is indeed single, l do not know if he is searching, I shall ask this and other such nation building questions when I sit him down to a television interview. He didn't light my female fires as he seemed to have a Tom Crusoid challenge (I like my heels high) but it seem that generally we have got a good pin up for young, educated and progressive politicians, lets see how long the infatuation lasts or if indeed he will prove worthy of our national love.
On my part I am placated by the fact that we may have lost a woman (deservedly so) but we have hopefully gained a dynamic youth. Stop crossing your fingers.