About Me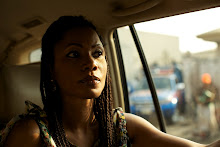 Funmi Iyanda

Lagos, Nigeria
Funmi Iyanda is a multi award-winning producer and broadcast journalist. She is the CEO of Ignite Media and Executive Director of Creation Television
View my complete profile
Wednesday, June 24, 2009
Wednesday, June 24, 2009
|
Posted by Funmi Iyanda
|
|
Edit Post
Back in Naija and loving it. My relieved and delighted shrimp, the okra soup with eba and fresh fish, the noise of the generator, the smells, texture and tone of home.
Talking about being back in Naija, the Man Magnet drew my attention to the facebook face-off between Abati and Generation Next over the interpretations of the socio-cultural shift that a new generation is championing, especially as expressed with 9ja hip-hop.
Now my first reaction was abeg leave them alone, but the more I read, the more compelled I felt to comment.
To start with, one of my core Aspen conversations was on the role of new media in a new world order and like all else, I was fascinated by the role of twitter in the Iranian protests. The thing that struck me in Aspen was not just the real attempt at understanding new media but the very psyche of the generation that powers it.
Unfortunately, as it seems to happen with many things, Nigeria is not having an honest, informed conversation about the post-IBB communication convergence and liberalization generation and her unique social and economic construct.
Dr Abati's article is a typical knee jerk reaction by a generation that takes the seismic shift that is occurring amongst the Nigeria youth too literarily and dare I say, feels a little left out.
I can understand the young people's frustration with Dr Abati as too often, no one has taken stock of how the dark post-second republic era and the complete breakdown of the physical, social and economic fabric of Nigeria resulted in the conditioning of the generation born and reared of those times. The seething resentment against the so called generation that did nothing, reared its head, as it is wont to at such times, whereas in fairness the generation before fared no better.  The Tiananmen Square or not argument though, must be left to another day.
Now, now doc, abbreviating the name of a country, place or person is a way of owning it. It is a term of endearment amongst the young. So the abbreviation of Nigeria into Naija or the even funkier and frankly twitter generation-friendly 9ja is not a crisis of identity, but the very first and tentative move by any Nigerian generation towards cultural confidence.
To castigate the use of pseudonyms or stage names by Naija (yes Naija) artists is frankly puzzling to me as this is an age-old productive/ creative exercise. Madonna, Sting, Anikulapo, KSA, KWAM 1. Should I go on? To the uninitiated, a stage name is a useful tool for artists to separate the self from the persona and often salvage one's sanity. Even those artists who use their given names alter it slightly, not just for commercial purposes but for creative or identity protection purposes. 9ice is called that because he is the nicest soul you can encounter plus he writes a song every 9th day. He is still Abolore to his family and can thus be Abolore at home and 9ice at work. Asa, so nicknamed by her mother because she is swift as an eagle. Ditto most of the others including the very cool Banky W and the very intelligent Naeto C.
Finally that vexatious argument about the meaning of the songs and so-called lewd, or (horror) immoral nature of the lyrics, irks me. Whilst there may be a few censor-worthy lyrics, the majority of the music is actually great and a real innovation in the way they are creating a new form of music unique to regions of Nigeria but with universal appeal. The deeper meaning of some of the lyrics, which comes from Nigeria's peculiar street culture and realities, is actually beguiling. For example "Ori o foka sibe" is not sexual unless you want to interpret it so. It is really street talk for bringing your brain cells to the issue. Literarily you scattered your brains on that issue o.
I was educated in Ajegunle whilst filming TWF as to the origin and structure of dance forms such as Galala, Konto and Swo which are an amalgam of Yoruba, Ijaw, and Igbo dances with a touch of Ajegunle madness. These dance forms have interestingly made their way from Ajegunle to dance halls around Africa and certain parts of the world.
I can also understand and identify with the oft self-affirming words of Naija music. This is a generation that was completely disempowered, redefining and psyching herself to greatness. To begrudge them that is to be insensitive. They are also telling stories of Nigeria as she is. Note the haunting but strangely empowered telling of the Odi massacre by Timaya. We cannot wish a gentle Victorian nature on people reared of such realities. Our job is to unearth, understand and grow a better vision of self and nation.
Finally, the thing about even the innuendos and all, is that this is a generation which can laugh at herself and her own excesses. They know better than to buy it on surface value. So dancing Yahooze or Big Boy does not make you a 419ner or a glorifier of it, as dancing to Booty Call does not make you a streetwalker. This is adult music and parents are responsible for what they allow their children listen to as are broadcast regulators for what is put on the family belt. It is creative subversion that appeals to all but is clearly understood as that by a thinking, informed generation. It was irritating to read the brouhaha about Powell dancing Yahozee and thus glorifying Nigerian 419 by western media when they give awards to music, shows and films which use subversion as art form -- Pulp Fiction any one? So they can laugh at themselves and we cannot abi?
The girls who shake their backsides to Bumper to Bumper are as likely to be investment bankers or lawyers as hardworking traders. They are comfortable enough in their post-feminist skin to be sensual and smart or as someone aptly put it, "may just be that my skirt is short and my IQ is high."
If the young people begin to apply the same principles that has seen the emergence of this vibrant, evolving and eventually to be deepened music industry to other aspects of life, we will begin to head towards a new Nigeria.
The challenge of Generation Next actually is how to bring that to bear, otherwise in a decade or two, they too will be accused of being the generation that did nothing.
Now shall I retreat with the words of one of my favorite 9ice's songs, "ohun t'o ba wun eni bodi l'o le f'enu won so. Omo o' ran yan, omo j'o mo lo, omo mati jagbo lo, e fi won si le e'je kan ma so lo, orin yin ni o, e ma ko lo"… Remember not to take it all too literarily o. Peace.