About Me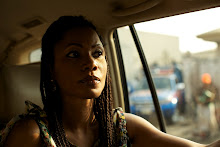 Funmi Iyanda

Lagos, Nigeria
Funmi Iyanda is a multi award-winning producer and broadcast journalist. She is the CEO of Ignite Media and Executive Director of Creation Television
View my complete profile
Wednesday, February 20, 2008
Wednesday, February 20, 2008
|
Posted by Funmi Iyanda
|
|
Edit Post
I have those moments when I wonder what sins our ancestors may have committed that warrants the curse from the gods that some of our leaders surely are. Take the example of madam Ekaette, the senate chairman in charge of Women Affairs, Social Welfare and Youth Development. What offence did we as Nigerian women commit to be assaulted with this character? I have been inundated with calls by Nigerians to say or do something about his crazy impending
bill
on indecent dressing and I can freely admit to you that apart from the Herculean battle that sustenance is in Nigeria, I am exhausted by the many battles I am forced to fight and this particular one is immensely vexatious and energy sapping.
Fortunately I am not alone, many sane Nigerians including Professor Soyinka have spoken out strongly against the bill all to deaf ears. Last week, I got Iheoma Obibi. of
Alliances for Africa
and Mma Odi of Rural Women Empowerment Network to join myself, PR specialist and pastor Sola Salako and
Business eye
publisher Ibim Semenitari on New Dawn to discuss this very annoying issue. If during the
interview
you notice that I keep saying perhaps madam senator means well, it is only to ensure that NTA does not refuse to air it, also what you have here is the uncut version, which the network would never have aired.
I know Jeremy has
raised
this issue on his blog and slowly opposition is gathering but I feel it is time to spit in the eye of these pseudo moralist bigots who the nation spends a fortune to keep in the luxury they have become accustomed to. Isn't this the woman who is wife to Ufot Ekaette and therefore perhaps unaccustomed to the toil and pain of the average Nigerian woman most of whom are the unspoken breadwinners of their families? These are the ones whose daughters are abused daily in the efforts to supplement family income. Where do these kinds of people get off from and why have the rational senators, male and female not shouted her down? Nobody should tell me to take it easy; given the myriad problems of development in Nigeria especially for women should any sane woman with "
God given opportunities
" add to our burden? If I had my way, I would march a million women stack naked to the national assembly to demand a removal of immunity for public offenders, the death sentence for corruption and election rigging and long jail terms for nepotism and favouritism which are the true moral cancer of our society, I therefore call on all rational Nigerians wherever we are in the country or outside to speak up and out as well as write to condemn this bill before they unleash a reign of police brutality and terror on the much be leagued Nigerian female and her family.