About Me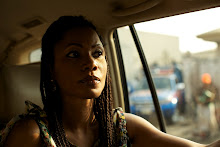 Funmi Iyanda

Lagos, Nigeria
Funmi Iyanda is a multi award-winning producer and broadcast journalist. She is the CEO of Ignite Media and Executive Director of Creation Television
View my complete profile
Friday, November 16, 2007
Friday, November 16, 2007
|
Posted by Funmi Iyanda
|
|
Edit Post
Oh by the way, I forgot to tell you, the speaker is married. It took all of 1 week but a wife has been found, sealed and delivered. Chikena! All is well that ends well.

Now to a really funny story, only I am not sure who should be laughing. Most of it happened on phone. Let's ets all her Biola, she is a friend's friend.
Biola: Hi Funmi, how now? I'm just calling to let you know that I am getting married next month o, so you must buy your aso ebi.
FI: HEY, congratulations, so you and Mike (not his real name) finally settled your differences
(Last month, I had been called in to counsel and hold the hankie in the latest episode of "Mike has started again oh" beating episode. They had been going out for two turbulent years).
Biola: Mike ke! That one na history jare praise God.
FI: You finally called it quits and you have found someone else and is ready to marry so fast? Good girl! Who is the lucky so and so!
Biola: It's my first boyfriend from secondary school.
FI: Oh! You guys met again? How nice.
Biola: Met again? l have always seen him on the side now, l go to him for money when I'm broke, we have sex occasionally, you know, that kind of thing.
FI, So what has changed now?
Biola: The thing is, he has a problem with women; they won't leave him alone so he can't commit to one woman. His family is worried so they said he should marry me since I was his first girlfriend and they like me and I am Yoruba like him.
FI: But what does he want? What did he say?
Bola. He agrees now, he is not fooling me about the other women, he cant help that but he agrees that at least we have known each other since we were young especially when he didn't have money so he choose me because yes his mum and family like me and he is ready to settle down now.
FI: If that is his story, what is yours? Why are you marrying him
Biola: (Deapan) Because I love him.

At this point, I meekly ordered my aso ebi and dutifully attended the wedding, the bride wore white. They separated 3 years later, his mother didn't like her "barrenness", he became violent and abusive, and she found religion. The last time I visited her; she had a curious book on her side table titled When God When?