About Me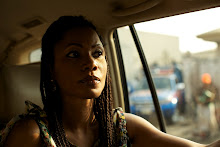 Funmi Iyanda

Lagos, Nigeria
Funmi Iyanda is a multi award-winning producer and broadcast journalist. She is the CEO of Ignite Media and Executive Director of Creation Television
View my complete profile
Friday, March 26, 2010
Saturday June 6TH 2009
Last night, after the final shoot in Ilorin and fractious flight to Lagos, l got dressed and went out with the girls for Remi's birthday. I was still in the mental and physical space for filming so I looked somewhat incongruous amongst my dressed down friends. I had missed them. We saw a lousy movie and had a yeye meal at an Italian restaurant with a need to take its face out of its arse.
Went to bed restless at 2a.m and was up and cranky by 5am. Played cards in bed with the shrimp who suddenly seem grown up.
8am and Mr. B had not shown up, maybe bonding with his family too. Called in a stand in but got left behind by the crew. Fortunately I know my way around Ajegunle a little. I had spent a week filming a story here some 14 years ago.
We arrived Jahoha Studios, the spiritual home of most of the musical stars out of Ajegunle. Daddy Showkey is mentioned in reverential tones. He is the ghetto warrior who with that guttural cry led a new musical style and sense of worth out of AJ city. I find that I cannot describe this place I can only feel it. Ajegunle is a sensory overload of sounds, sights, markets and an amazingly diverse mix of faces, cultures and ethnicity. I must say that the place does not feel as threatening as it did during the Abacha days when I came to film earlier and the roads although still bad and incomprehensible appear a lot calmer, maybe because it's a Saturday.
The one thing I do feel is little, this place makes everything else pale in comparison to her wild energy, colours and pace.
The over crowed houses built shoulder to shoulder, the electric and phone cables coming out of the ears and nose of each house into the ears and nose of the other in a continuous chain. I observed, nay felt all these as I waited for the guys to set up so I could start. It is boiling and my skin is itchy under the make up, which keeps running and needing reapplying. By this time Bayo had arrived and bullied the stand into a corner.
I was introduced to Marvellous Benjy who was soaring on his own high somewhere far far away; it was tough keeping him on track during the interview. I however found him charming, smart and a little delightfully bonkers. The interview was bizarre but revealing.
The whole shoot went well as the community turned out to watch and then dance including the little children. The AJ dancers were amazing and did very little talking, what is the point of talk when you can move like that. I felt like a flat footed duck beside the agile, mobile and flexible people but l do think l may have got the hang of Alanta which is the pride of the community. I learnt also learnt Swo, Kwonto and the still in development Warapa but Alanta is king.

Sunday June 7th
Final day of shoot for the entire series. I was up and ready by 5.30a.m. There are delays, there is trouble brewing, the scale of which didn't become apparent until months later. One, which almost shut down the entire project.
We returned to Ajegunle and went to the famed Tolu football pitch where many of Nigeria's ex super eagles has played. It is a sandy schoolyard behind one of the ports and adjacent to one of the denser parts of Ajegunle.
The place is drenched in testosterone and run by a council of elders you would be well advised not to cross. I interviewed the mama 7 boys food vendor who has been there for years and one of the council of elders but the highlight was a display of "balcrobatics" by Amata the star ball juggler with the proud people running continuous commentary.
Afterwards we conducted a street vox pop with young women on the street. We had noticed how well dressed and regal in bearing the women were. So Bayo started searching for best face, style and fashion right there on the street and I talked with them.
My feeling was that I had seen more character, cooler style and red hot attitude on the streets in Ajegunle over this weekend than all the fashion and style magazines on the newsstands. The average babe on the street seems to have more body confidence, personal style and bearing than many diamond draped, Brazilian hair wearing Lagos socialite.
Afterwards I interviewed the very talkative and very sweet old mama Ajegunle who has lived here since independence. She kept trying to give me a drink, they all keep trying to give us a drink or meal. This is the only community in the whole series where the people were offering to give us stuff rather than take stuff off us.
We left AJ city and stopped over at mainframe studios in Oshodi to film Tunde Kelani's interview for the final part of the Nollywood edition. So it was that after 5 weeks of filming across 4 states, the shoot wrapped. I returned home to pack my bags for my trip to Aspen for a seminar tomorrow then I joined the guys at Tarzan to unwind. I like watching the characters at Tarzan, tonight there was the absolutely gorgeous dark girl with cropped hair and hoops and the wild snake hipped dancing boy. I wonder, what is their story?
Irrepressible AJ CITY airs on
TWF
this Sunday 28th March on Africa Magic 6pm local time 7pm central African time.