About Me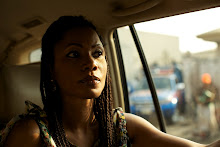 Funmi Iyanda

Lagos, Nigeria
Funmi Iyanda is a multi award-winning producer and broadcast journalist. She is the CEO of Ignite Media and Executive Director of Creation Television
View my complete profile
Friday, March 14, 2008
Friday, March 14, 2008
|
Posted by Funmi Iyanda
|
|
Edit Post
The ovation was spontaneous, heartfelt, resounding and long drawn out last night as the light faded on the final piece of Vagina monologues the Nigerian story.
For me who had been the part of the first cast two years ago, I could feel the difference in the audience reaction. The first one directed by the creative anarchist Najite Dede was fantastic but this one directed by the indefatigable Wole Oguntokun was sublime. The difference is not in the direction but the stories. The process of gathering Nigerian stories and adapting them for the Vagina monologues' wining formula hit home in a visceral sense. The Nigerian audience can understand, feel and identify with the subject matter however grim because it is told to them in the way that Nigerians talk to each other. The performances were deeper felt and delivered, the monologues were less ingratiating to the Nigerian senses on the surface but more powerful in its deeper message.
I of course was the only non-actor on stage and the weakest link. Add to that my inability to make a lot of the rehearsals due to the many cross boundary balls I juggle and the fact that I had spent all of the night before filming
Funmi's Favourites
(coming soon) and half the day working. I hid behind the others and hoped that my lapses were missed but my goodness it didn't help a bit when my skirt tore right on the crown of my butt in the very first dance sequence.
I had suspected it might happen as the costume was too tight and the other girls had warned me that most of them had had a similar experience but why did mine have to happen on stage. Fortunately Ashionye had borrowed me her black tights for such an eventuality so at least my yellow bum was not on display. The only snag was that the tights and the polished wooden stage combined to make performance torture as I kept struggling to maintain my balance. Eventually I managed to slip it off when the lights dimmed on one monologue. Also I had to initially take off my headscarf and tie around my waist to hide the split skirt until Kate finished performing black widow after which l took her black scarf, tied around my waist and then retied the Ankara headgear.
Aside this hiccups, which people assure me where not seen (liars all, bless them), my one and only monologue was well received. I had mastered my lines and been tutored an hour before performance by the inimitable Omonor so I felt prepared to give it my all which I did at least for that night. As with all performances it will get even better by the next set of shows especially as I would hopefully not have spent all of the previous night in the studio working.
The other thing I did was study the each performance and the reaction of the audience so let me give a blow by blow account by performance
Omonor Imobhio
,
I have to start with her. If you have never see Omonor on stage there is a little sublime creative experience bone missing in your rib. You MUST see Omonor on stage. If she were American, she would have won a Tony and an Oscar, as it is she only needs the right project and she will be on the international radar. My deep suspicion is that as it has happened with many before her, we will continue to waste and underutilize her until she is snapped by people who have the industry and the structure then we will start doing that annoying "claiming" thing and giving yeye after the fact awards. How long will money and talent keep going in opposite directions here? Anyways back to Omonor, her gripping, powerful but nuance performances are not an accident. Her gift is obvious but what is less obvious is her disciplined work ethics, her commitment and focus. She is always the first to master her lines and step into the soul of the people she portrays. She comes to rehearsals with her nutritious food and quietly but professional delivers, contributing invaluable insights and helping fledging novices. Two years ago, l was struggling with a part of my performance when she stepped up to me and yanked my hair hard saying "that's how it feels Funmi, now put that into your delivery". Yesterday, she taught me the intricacy of balancing the voice, the delivery and the movement. It is hard to believe she is so young.
For her monologues, she nailed the sister Easter role in Song of Praise. That is one of the best monologues written by the gifted
Ijeoma Ogwuegbu
, a writer and journalist who also moonlights on New Dawn. The skit creatively uses humour to deliver a powerful message in a way that Nigerian will find inoffensive. It tightly walks the rope of subversion to pass on an important message. When l read the script, l had wondered at who would do it justice. Omonor did, so much so that the audience was eating out of her expressive hands and I caught a quick glimpse of Ijeoma grinning from ear to ear. She also performed the role of the trafficked Benin girl in Women Trafficking getting the accent right down to the letter as her lithe body contoured on stage. Finally her militant protest leader role in A Woman's Best Friend was untouchable. Omonor is the most talented, most professional, most disciplines actor I know of in Nigeria today and can hold her own on any stage in the world. I suspect that that girl can learn, deliver and perform her lines in Chinese in one week flat! She totally rocks!!
Ashionye
Let me repeat again that Asionye is a hard working serious minded person. Fragile in her core but tenacious and unbending in her spirit. She shows up, she works hard, she delivers. Let me also repeat that Ashionye is a bloody good actress. Her interpretation, delivery and performance in Maintenance Culture of the postmenopausal Ibo woman who has discovered the beauty of her vagina and the power of her own sexuality in her later years is fabulous. As my friend Remi says it is totally empowering. It is Ashionye as you have never seen her. At rehearsals, Ashionye is consistent, mostly quiet and impeccably turned out. On stage she comes alive. As the aggrieved but fighting widow in It Was My Money, she vacillates from amusement, to tenderness, to tear jerking grief and then thunderous anger. Let me also tell you that yesterday she came in totally, tearfully distraught but she turned all that around when the lights came on and gave a superb flawless performance. This is the hallmark of a true artist and a professional, the ability and focus to perfect your art, the core to rise above challenges and deliver on the night and the pizzazz to put on you powder and lipstick and smile brightly to the world even as you go home to battle the demons within and without. I truly always want to hug Ashionye.
Kate Henshaw-Nuttal
What can I say about Kate, okay let me start by saying that she can make an alternate living as a comedian. Kate is rib cracking funny, her range of accents and voices and expressions is awe-inspiring. She can speak and deliver with the most impeccable, cut glass upper class English accent and in the next breath speak it with a deep choppy Efik accent. Her face is so incredibly mobile and her laugh deep, throaty, and resonating. She is also a strict no nonsense mother hen, whipping everyone including the poor beleaguered director into order as required. As I
said
last week, Kate is wasted on Nollywood but she is a true Nigerian star and I can foresee that she will become one of the most powerful people in the emerging movies and entertainment industry in Nigeria. Her performance of Black Widow, Culture of Silence, The Landlord and We Forget were impeccable, even on stage she was organizing us all and we have all picked up a few kateism. Mine is to add 'o" and n" to the beginning of every sentence and "ne" to the end. An example is "o ngood ne" for it is good. Kate is superb.
Bimbo Akintola
The sexy, mad, bad Bimbo has so much talent she cannot help herself. I see now why the tabloids won't leave her alone and of course why they don't understand her. Like all truly supremely gifted, she lives in a world in her own head, she lives by her own rules and is comfortable in her own skin. She is one of the most overtly sexy women have ever encountered, she does not put it on or work at it, it just is. Perhaps it is those gorgeous boobs, those always half shut eyes, those pouting lips. The girl is just fabulously iconoclastic. The best part of it is that she is no skinny girl, she is all full heaving boobs and full rounded stomach who just loves her body the way it is dressing it as she pleases. Last night she was in leggings, boots and clingy top embracing every round happy curve. As a slender female who sometimes gets bad vibes from other women, being around Bimbo is a breath of fresh air, a relief and a vision of empowerment.
She is one of those annoying artist who only needs to put in a little work to deliver perfection so the rest of the time she spends tormenting poor Wole who is smitten with her. At other times, she is clowning around or teasing the other gals. On stage performing I Am Tired, The August Visitor and He Hits Me, she held the audience spell bound and as she exits every performance, they clap long and hard in recognition of one of those rare beings who are a walking, breathing artistic spirit encased in a human form seemingly smirking at all lesser beings.
Kemi Akindoju
She of the stunning voice and cheekbones. Also know as lala, young, feisty, happy, fun, talented. She recites the opening chant and performed Daddy's girl to chilling perfection.
Jennifer Osammor
They call her Jayla. Jennifer is a quiet, disciplined and young veteran of Wole's many plays. She is a peace seeking missile who lets loose on stage. She was tear jerking as the distressed mother of the 10-year-old bride victim of VVF in Baby's Baby.
Tunde Aladese
,
Model, writer, actor, sultry beauty. The trouble with Tunde is that she has too many gifts to know what to do with them all. Still, minimal in movement, insular and internal in an almost eerie way, you know there is a lot happening in that perfectly shaped and shaven head of hers but you just can't figure out what the heck it is .
Tunde wrote and performs the deviously convoluted and intellectual revulva. She also nails the role of the fighting wife in family meeting. It is that combination of fragility and intensity that makes the role convincing. You can actually see that this sort of small, fragile, still woman can be pushed far enough to cut off her husband's penis.
Wole Oguntokun
Wole's dreams of owning a harem of the beautiful and talented finally came true. As director of the monologues he gets to not only work with some of the most talented actresses in Nigeria but also, by is own confessions, is working with all the objects of past and present crushes. I have always admired Wole's drive and spirit, the refusal to be limited by resources or accept the status quo. From the first performance of Who Is Afraid Of Wole Soyinka some years ago, he has not looked back, directing and producing plays with his own resources and later some stipends from a few sponsors. He would put up his plays and those written by others from greats like Wole Soyinka Ola Rotimi and Chinua Achiebe to unknown writers even if there is only one person in the hall. My friends and myself have been Wole groupies for years just because we recognise his doggedness and we support it. I was glad when he collaborated with the lovely Bolanle Austin Peters for the regular theatre at terra gig and when KIND announced him, as director of the Nigerian monologues I knew we had a winner. Wole's Nigerian core is solid; he returned home from England determined never to go back and through thick and thin has keep going. He is a lawyer, with a some master degrees in strange new subjects as well as a writer, columnist,
blogger
and theatre director. How his poor wife copes with him is beyond me as he is completely devoted to the stage.
With the monologues he has had his hands fun with a cast of strong minded, highly successful, willful, gifted and consequently temperamental women. He applied a curious mixture of gentle persuasion to controlled anger. I often catch him sighing in frustration but the very next minute he is ecstatic because he knows the superb talents of those he is privileged to work with. Wole is a wonderful person, loyal soul, and an intuitive director and is totally cool except when he tucks his white tee shirt into his jeans.
The others,
These are the men in the cast.
The irrepressible Olarotimi (yes o) Micheals with the high afro you may remember him from as brother Jero in Wole's adaptation of trail of brother Jero. He is a cheeky happy monkey.
Kenneth Uphopho is the father in Culture of Silence. I have fond memories of him as playing various roles in Wole's many plays. He is always quiet, not sure if it is all the overpowering, out of control estrogen around him but he is a brilliant actor and Kate teases him mercilessly about his fair beautiful wife a perfect foil for his mid night dark skin.
Taiwo Ke-le-ko is man with the huge smile, he is the drummer whom l have never seen angry.
The Vagina monologues is a must see, and l am not saying that because l was in it. The next performances are March 19th at the national theatre and March 20th at terrakulture.