About Me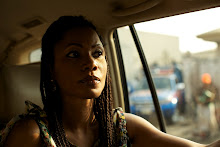 Funmi Iyanda

Lagos, Nigeria
Funmi Iyanda is a multi award-winning producer and broadcast journalist. She is the CEO of Ignite Media and Executive Director of Creation Television
View my complete profile
Sunday, October 22, 2006
Sunday, October 22, 2006
|
Posted by Funmi Iyanda
|
|
Edit Post
A story, which has just happened right now. As l was writing the last story l got a call, a number l didn't recognise and one l would not have picked up usually. To keep my sanity l screen my calls. This clearly was a special number so l knew l had to pick up.
It was a friend of mine sounding a little like himself but borderline hysterical. I met this guy three years ago in the London flat of a British friend of mine. He bounded in with so much passion and energy l was captivated, this was my kind of person. Ibo, tall, big, articulate, intelligent American trained and bursting with love for Nigeria and plans for his glorious return home.

He had just got a job to tackle a Nigerian public enterprise, a non-performing behemoth. He was more than eminently qualified for the job and his passion and creativity was not in doubt. So much so he was leaving a fantastic job and uprooting his family to come home. I remember asking him why he won't leave his family behind to test the waters here first. His reply was that it was all or nothing; he was going to give it everything besides he wants his wife around as he doesn't want any temptations. My Jewish British friend who is just a glorified Lagos Agbero (he has worked and lived on and off in Nigeria for 23 years) and a committed pessimist was pointing out the pit falls but l the eternal idealist urged him on.

In the three intervening years we haven't spoken or seen much but l have watched his battles from the side lines so l was delighted to hear from him but my heart sank at his first words. He said.. "Funmi I am giving up. I am leaving" with conviction but poorly disguised resignation. This from a man whose natural instinct is to fight. He really didn't have to tell me much but certain phrases stuck in my mind. He said, my moral fibre has been stretched beyond capacity, l begin to question my sanity, in fact that is long gone. A system that is in complicity to degrade and dehumanise at all levels, the church, mosque, family and friends spewing people who appear to be quite sane and adjusted but in reality act out such bestial dysfunctions that make your mind reel. Funmi l should write a book about my experience here, the thing is it has got to be a comedy or l will be unable to even pen it from the pain. I knew exactly what he meant which is why l always say l don craze finish and that if l no laugh l go cry.

I asked him what his immediate plans were, he said funmi l don't know, I'm just going to travel around the world for 2 weeks to reassure myself that there is another norm and restore my sanity, then I'll find other people who will use and pay for my talents. I need to be able to actualize myself as a human being and care for my immediate family in an environment that does not reduce them as human even if they are rich.

Cannot tell you how saddening that conversation was. It took three years just three years to take that sparkle out of his eyes, that infectious energy, that enthusiasm. What remains he assures me was his passion and love for Nigeria and that is why he called me because as he says l was one of the few thinking Nigerians he knows who are aware that this cannot be the only realty.

I encouraged him as best as l could, telling him that change must be creative, informed and committed coming from whatever and wherever you are. I told him about what l am working on and how he can contribute from wherever he might be. We promise to sit down and talk whenever he is in Lagos. I hope l see him before he leaves so we can strategize on what he can still do to help wherever he ends up.
My other friend Dele just left for South Africa on Monday after years of being different in the advertising industry and refusing to play ball his talents have been recognised by others and he has got a great job in SA so he and his family left on Monday. I know how much he loves Nigeria.
I put the phone down feeling a little more lonesome and l think of all the other bright, brilliant and best ones which this system has killed, frustrated and thrown away even as my eye catches the list of national award winners for this year which l have put on my table. I am just as dejected at a system that reduces its best and throws up its most mediocre, base, banal and untalented but if l give in to frustration l might as well lie down and die. What would be the purpose of life?