About Me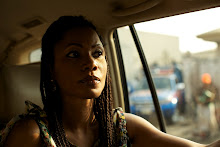 Funmi Iyanda

Lagos, Nigeria
Funmi Iyanda is a multi award-winning producer and broadcast journalist. She is the CEO of Ignite Media and Executive Director of Creation Television
View my complete profile
Wednesday, November 07, 2007
Wednesday, November 07, 2007
|
Posted by Funmi Iyanda
|
|
Edit Post
I have spent the past 48 hours with blotchy itchy skin and an irritable bowel and l blame
Silverbird
squarely. Now you all know that the galleria is one of my favourite haunts in Lagos but what is it with the recent bad selection of movies? Common Ben, Jide, Guy, Michael "fukus fukus" (in-house joke) guys! Enough of the mindless unfunny slapstick comedy cum brain pureeing b rated sci fi/non horror horror movies chowder we are being fed, I'm dying here.
From bad something (can't be bothered to remember) to dark is rising and invasion which is the latest remake of body snatchers, l have slowly regressed into downing bags and bags (ate 3 on Monday) of sugared popcorn to numb my pain. The problem is l am allergic to sugar (a lifetime of living on it caught up with me) so l break out in itchy rashes and my weak knee joint aches. I know they must have commercial films to break even and there is a dearth of great films from
Hollywood
,
Nollywood
and
Bollywood
but please please mix it up ok or l fear l shall expire in a sugar induced seizure if l have to watch one more no brainer without a good script, fairish acting, above the line cinematography or great effects redemption.