About Me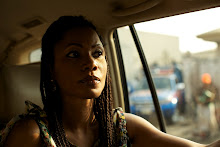 Funmi Iyanda

Lagos, Nigeria
Funmi Iyanda is a multi award-winning producer and broadcast journalist. She is the CEO of Ignite Media and Executive Director of Creation Television
View my complete profile
Monday, January 29, 2007
At 6a.m l staggered out of my room, tears pouring down my cheeks, my eyes reddened by lack of sleep and hot tears. My daughter bounds into my room and leaps on my bed, giving me her usual sideways hug, she says e kaa ro mama and beginning to prattle on about our planned day out. Then she must have sensed my despondence because she looked at my hastily wiped face and asked in alarm, mummy why are you crying?
I automatically did what parents have been doing for centuries, l lied to protect her innocence, l said oh, something got in my eye and it is hurting me. She looked at me in disbelief and said but why are you sad? I said, well l spent all night reading this book and the story is around the Nigerian Civil war, which was very sad. She looked as though she'll let that go for a second then pipes up, what means civil war mummy? I was stumped, how does one explain insanity to a five year old?
Years before she was born, her dad, my friend Segun told me a haunting story. He grew up in the ethnically diverse and vibrant pre civil war Jos. His friends were Igbo and Hausa children with whom he ran barefoot in the street playing games. People whose parents and homes were like his. One day as he set out on his way to school, the world changed, his schoolboy senses felt the pogrom before he saw it. As he walked his usual route to school, the streets were empty save the many copses lying around. Decapitated bodies of his little friends, their parents, their siblings, their relatives. He walked on in a daze and as he turned into a street, he lost his youth. Right there a mob was stoning a very fair skinned Igbo boy. He thought he recognized the boy, a neighbour and was confused as to why he was being stoned by his old friends and neighbours. He saw as the stones sank holes into the boy's fair beautiful skin, as the blood oozed even as the boy begged for his life. Segun told me that what he would never forget was the look of disbelief that never left the fair boy's face even as he went limp and silent. Nobody touched Segun or his family, he was Yoruba.
To underscore the extent of the ethnic cleansing that preceded the civil war, he told me that his school St. Murumba lost so many children either to the massacre or the mass East bound exodus and the eventual war that there were only about thirteen children left in his year.
Before Segun's story the political upheaval of the 60s and the war had always seemed benign to me. I was born after the war and aside the stories of my fair skinned Igbo looking Yoruba dad being hassled here and there in Lagos, the Biafran experience was just a blip in the on going Nigerian story.
That has changed; it changed after l read Chimamanda Ngozi Adichie's new novel HALF OF A YELLOW SUN. l confess to a deep admiration and genuine fondness for the work and person of Chimamanda. Once in a rare while on my job l come across a sterling mind against which l can sharpen my under utilized interviewing skills. I fell in love with her after my first interview. Her amazing clarity of mind, mischievous twinkle in the eye and curl to the mouth, that knowingness about her. That such a young, female person from Nsukka writes with such mastery, such wisdom, such creativity and brutal beauty brings a song to my heart.
HALF OF AYELLOW SUN is a work of fiction but we are live in the fiction. That is why l couldn't put it down till the break of dawn, that is why l look at the Igbo a little differently and why l have started buying up as many books on the civil war as l can to read. I cried because so much of the underlying issues are unchanged and because all around us in Nigeria and all over Africa, the world is still silent when they die.