About Me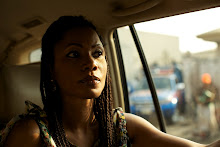 Funmi Iyanda

Lagos, Nigeria
Funmi Iyanda is a multi award-winning producer and broadcast journalist. She is the CEO of Ignite Media and Executive Director of Creation Television
View my complete profile
Friday, September 28, 2007
Friday, September 28, 2007
|
Posted by Funmi Iyanda
|
|
Edit Post
>>Mma Foodie
Strange week of extremes, Mother Nature rolled over many times showing me her many contours, a reminder that each moment is precious and must be embraced.
It is with this at the back of my mind that l do solemnly urge you not to waste life eating bad food, especially if you have to pay for it! I am in constant search of great places to eat and it seem Abuja is fact becoming a food lovers haven. There are no multiplicities of pretentious little holes with rude waiters and people preening and posing in barely contained insecurity whilst paying a fortune for fried morning shat such as abound in Lagos. The good places are few but by god they are good. Last week l was in Abuja for some meetings and since most are done post 10pm in the Abuja market square i.e. Nicon Noga Transcorp Hilton l find my afternoons free so I went in search of great food.
>>Inside WAKKIS
I had been introduced to WAKKIS 8 years ago by Makin Soyinka who for all his sins can be trusted to know excellent cruise and wine. I ate there every time I visited Abuja until El Ruffy relocated them. Last week I found the new location on Aminu Kano Way and I was enthralled by the building. I always suspected that whoever owns the place also owns a good head on his or her shoulders. Constructed like a one story covered gazebo with part thatched roof and glory to god stabilized soil bricks. The huge windows and cooling bricks negates the use of air conditioners so what you have are long ceiling fans blowing lovely vegetation cooled, sunlight kissed air all around. The kitchen is open and set right in the middle of the restaurant without any cloying cooking smells. The menu is Indian meets Hausa, I ordered giant marinated, clay oven flame grilled prawns. My friend Remi ordered tandori chicken whilst Jide had lamb with a double sauce one curry based, the other with yogurt. All to be accompanied by plain naan for me, buttered for Jide and garlic (no comment) for Remi. What l like about Wakkis apart from the architecture, décor, ambience and ventilation is the polite efficient staff, the freshness of the ingredients used in cooking and the real 9ja pepper sauce they can whip up as an aside. If you want more naan or sauce, you get more at no extra cost ba chikena ba!. They make a mean Chapman, the tandori is priceless and the grilled prawns which comes on a no nonsense stick is succulent, drips in juices and grilled to palate pleasing perfection. I left foolishly full but happy with the world and my space in it.
>>brownie& ice cream ChezVictor style
Next day l was at CHEZ VICTOR. Jide had told me about this place owned by a Nigerian lady and her francophone African husband. Jide is a food suspect as he has a penchant for eating squiggles but he is also adept at good food and can whip up an incredible breakfast spread, his obè ata baked beans should be bagged and sold.
We drag our newly migrated to Abuja friend Veronica, a connoisseur of all things tasteful to Chez Victor. Essentially because she is paying, one of our fun bob rules is that life must be enjoyed to the max without odious nouveau riche tendency to throw money at it. You might also call us cheapskates, Na you get you mouth.
Now read my lips, you MUST eat at chez victor when next in Abuja. Located on Ganji (I think) street on the ubiquitously names ministers hill, this restaurant is a food lovers delight. Great location, interesting art on the wall, nice décor. The waiters are slow and there was the queer incidence of ants on the table but absolutely fabulous food. Chef Victor is the husband owner and the magician in the kitchen.
Where should l begin, first up was the bread rolls whilst the food (takes time, worth the wait) is prepared. These rolls; white, brown, whole-wheat variants were warm and freshly baked in-house. Jide is teetotal, Remi can't handle alcohol and Vero and I were not drinking but I did note an excellent selection of pinot and chardonnay, French and Chilean I think. Then the soup arrived, fresh lobster, crab and spices (forgotten which as I neglected to take notes and the buggers were giving plenty attitude when Jide called to get details for me), I swear to you that all my nerve endings tingled in joy, it came with lightly fried prawns in the most sublimely unfloury batter sitting atop sliced vegetables dipped in some wicked house made dressing.
>>My shoulder of lamb & Carinella beans
My main was
shoulder of lamb
slow cooked in Moroccan spices, served with rice and a choice of two sauces, Even the plain chips and chicken Jide ordered (he came late) was fantastic.
>>My Chocolate desert
Desert?
All incredible, all made from scratch. yes l am lactose intolerant, that's why god made living bitters. I had trio de chocolat, which must be ordered with the meal as it takes a while to prepare. It comes in a little bowl with white chocolate powdering on top. As you cut though the powder and dark chocolate crust, it breaks into the most warm, moist, rich and syrupy chocolate sauce; the taste is pure orgasm.
>>Apple tart & Ice cream
Remi and Vero had equally delicious
apple tarts
and
Jide's lowly brownie
and ice cream was gourmet standard. Chez Victor is excellent and although a little pricey (nothing compared to some yeye places in Lagos) it is worth every dime for the passion, art and beauty brought to cooking.
>>Jide Chips & Chicken
I didn't visit Al basha this time around but l also rate it high and I hear they have maintained the standard. I don't mind the tuna salad at British council either.
For Nigerian food, Makin took Jide who then assures me that Rosies' is the place to go, I mean you have to give it to a good quality buka where they have wine glasses and can start pounding yam fresh at 11pm. The amala I hear is as it should be, soufflé like and the soups cut across many ethnic divine with nama (meat) which is slaughtered and cooked on location daily.
>>Yahuza Suya
Talking about nama, don't leave Abuja without buying suya of whatever variety from the Adetokunbo Ademola street located YAHUZA (not to be confused with yahooing or yahoozee). It is to die for. Even the sugar-sniffing shrimp and pepper soup eating (7 going 25 year old daughter of jide) yanrinbo beg to have it brought in.
Whatever you do don't eat at Nicon, Noga Transcorp Hilton, its is a glorified American hick town diner that thinks it is the savoy, tut tut tut!
Fast food? What's that honey?