About Me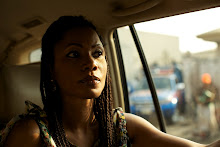 Funmi Iyanda

Lagos, Nigeria
Funmi Iyanda is a multi award-winning producer and broadcast journalist. She is the CEO of Ignite Media and Executive Director of Creation Television
View my complete profile
Monday, October 13, 2008
Monday, October 13, 2008
|
Posted by Funmi Iyanda
|
|
Edit Post
By
Pamela Braide
The recent accounts of child abuse perpetuated in the much maligned name of God leaves me incandescent with rage and wanting to inflict bodily harm, lynch mob style. Recently the child witch saga climaxed for me with the
raping
to death of an 11 yr old girl submitted to a pastor BY HER OWN MOTHER for cleansing of witchcraft. The man left all alone with this girl raped her over days until she died and he fled. Her corpse was found with blood seeping from her vagina. I cannot find the link to the Nigerian daily that reported this but I will scan and put it up shortly.
I can imagine that all this pedophile had to to do was point out a witch child he was lusting after amongst his congregation and the idiotic parent would hand them over unsupervised for any length of time for this demon to rape to his hearts content.
I don kolomental finish!
When in heavens name did chaining children, flogging with wires, rubbing pepper on them, starving and burning become acceptable because some evil demonic charlatan claiming to be anointed by God labeled them witches?
When did we lose our humanity? The abuse and murder of children under the cloak of religiosity has got to stop! Why oh why do religious leaders in Nigeria shy at taking the lead in tackling matters they can have the most impact in solving? If the church is used as a cloak for child abuse, and murder in a way that is even making international headlines shouldn't leaders create a plan to shut down these evil ones masquerading as persons of God?
What is my government doing?
What are we doing?
Last year a journalist from the UK actually came down and did a
documentary
in Akwa Ibom about these shameful trends.
One thing that struck me was how quick parents and guardians are to believe unscrupulous so called persons of God who tell them their kids or wards are witches. Witches who are responsible for all their bad luck. Of course they prey mainly amongst the poor. In our new culture of blame we attribute our problems not to our selves our bad leaders but to supernatural powers. Nothing is our fault. Taking it to the most vulnerable we can work out our frustrations on seems to be the next step. It used to be old people now we need to add children to this sad mess. At least some outraged people were struggling to care for the cast off kids that survived.
The parents now allow the demons to be cast not through the usual means of prayer but with brutal beatings, starvation, shackling in chains and other atrocities that often leave children dead or damaged for life. I actually heard of a case in Calabar were the neighbours in 'a face me I face you style' compound reported the parents and the pastor to the Police.
We are all guilty of letting this continue. I have a neighbour whose little sister is so painfully awkward in company it is disturbing. She keeps her eyes down when talking and always looks scared. I recently found out her back is a mess of scars administered by her own sister because she has been fingered as a witch by her church. She is beaten regularly, forced to fast and endure untold abuse.
In such cases all parties should be cautioned first then if necessary arrested, named, shamed and made to face the law.
The Police should stop treating abuse as a family matter.
It is a criminal offence.
If you feel a child is a witch then pray for them.
I cant recall reading that Jesus tortured any person he delivered let alone a child.
I have had conversations with people I formerly felt were normal trying to rationalize what they felt were acceptable levels of punishment for witch children. People who fail to understand that they have contributed to all the murders and the rape of that poor 11 year old girl.
Sadly the few Nigerians active in fighting these injustices are overworked, unappreciated, under funded and undermined by our hear no evil, speak no evil attitudes.
What do we do?