About Me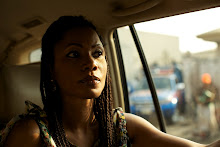 Funmi Iyanda

Lagos, Nigeria
Funmi Iyanda is a multi award-winning producer and broadcast journalist. She is the CEO of Ignite Media and Executive Director of Creation Television
View my complete profile
Sunday, December 17, 2006
Sunday, December 17, 2006
|
Posted by Funmi Iyanda
|
|
Edit Post
Watching the tragedy that was the PDP presidential primaries on AIT yesterday, l felt a debilitating sense of despair that l haven't completely recovered from. I am brimming with thoughts and feelings that are so powerful it is difficult to communicate them so pardon me if l am a bit incoherent. The very shabby and incompetent nature of the proceedings, what were those dingy ballot boxes on owambe party tables about? The power/floodlight failure (they were using car headlamps at a point) in a show put up by the "biggest party in Africa" most of whose chieftains wore Rolex watches and designer sunglasses even as the sun set? The incongruity of such shabby and meagre proceedings which may be pardonable in a poor struggling post war country, played out in a setting where the odious smell of non commerce driven wealth is tangible even through a TV screen is only one of the many paradoxes.

After the dust settled, Yardua had won leading his closest contender by over 3,000 votes. A classic case of you "kill me finish you still want to murder me". I mean where did Yardua come from? Who is he other than a brother to the late general and scion of northern oligarchy? This of course were the reasons general babangida gave for stepping down pledging pious loyalty to his friend and brother general Yardua and the family. If l am fool enough to believe that I'll believe Santa is bringing me a Pulitzer.. Was Abiola not his bosom buddy, did that stop him annulling the 1993 elections? Babangida's resignation was of course a powerful early signal of where things were headed and lo and behold, there followed the mass withdrawal of other candidates and endorsement by the governors forum.

I do not care about all the others but et tu Donald Duke? I can understand those who will not blink at losing the fortunes they had been spending on their campaign after all l do not see the enterprise they run other than their states to get the money they had been spending. They have also not shown much inclination to a high moral position so we cannot ask them what happened to the power of their convictions but Haba! Donald Duke what happened really?

There are conspiracy theories all around from the plausible to the near deranged but if there is any truth to the rumour that Duke stepped down to be vice president, l can bet my last dime that it won't happen, per chance that it does what is the guarantee that he wont be Atikud?

Now l have no personal issues with Yardua who looks suitably docile but with the obvious horse trading that has lead to his emergence. It all looks like an old formula, one that eventually led to the collapse of the second republic. What is it about yardua that reminds me so much of Mallam Shehu Shagari? Almost twenty years later Nigeria is being presented with another seemingly gentle unambitious unobtrusive teacher. With the emergence of Yardua; the powerful PDM faction of PDP is secured, the recent threats of disintegration is checkmated paving the way for a landslide (na only for here a candidate dey get 99% of votes cast) PDP victory at the polls. Meanwhile since Yardua is such an unknown entity, the nay Sayers would have nothing concrete to hold against him such that before we blink he'll be president. There is talk of an Andy Uba vice presidency and a shiver runs down my spine. Where in all of these is talk of the sort of visionary and informed leadership required to move Nigeria to the next level?

What are Yardua's ideals, proven abilities and program for Nigeria? They say Obasanjo anointed him because EFCC says gave him a clean bill, no record of corruption in office. I can be persuaded to buy that, applaud him and give him a plague to hang in his toilet but then I proceed to ask, so what exactly did he do for Katsina state? Since we like quoting copiously from the bible, did Jesus not berate the servant who unimaginatively buried his talent?

One of my friends argues that since the post has been zoned to the North, who else should have been chosen to which l answered that she missed the point. First, candidates should have gone forward in a transparent process to pick the best from the region, not stepping behind, down or aside. Secondly why did the South East and South South sell out so easily? Didn't Duke at least realized that he carried the hopes of a whole new generation and for whatever it was worth he should have fought to the last or was he also afraid of EFCC? Thirdly when will the presidency be zoned to the competent and the efficient?

As l watched the dismal show by mostly tired and dissipated but constipated looking men, l saw Mr. Isaiah my fashion designer friend Remi's head tailor walk in dejectedly, his police constable brother was one of the 23 people killed during the week in a one day bank robbery spree at Alaba international market and Ikorodu.

I reach out to him in helpless sympathy as l wonder how much longer we will continue to allow these robberies.