About Me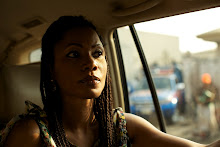 Funmi Iyanda

Lagos, Nigeria
Funmi Iyanda is a multi award-winning producer and broadcast journalist. She is the CEO of Ignite Media and Executive Director of Creation Television
View my complete profile
Monday, June 02, 2008
|
Posted by Funmi Iyanda
|
|
Edit Post
Last week, government at state and federal levels
marked
the 1st year in office with various degrees of half truths, lies and bloody lies. As it tends to happen, the initial euphoria of getting rid of a problematic leader and attendant hope in the new as we grasp at straws of fairly good points and magnify these with evangelistic fervour has dissipated into despair as the much touted man of honesty and order goes in the mind and slangs of the populace from
baba jeje
(gentle father) to umoru go slow (sluggish umoru) and now
umoru
no go (non performing umoru). Yardua's rule of law government has become rule of lull as the ailing president makes no moves forward but reverses in painful to watch and hear epileptic fits. As he reverses many of Obasanjo's policies and "achievements", he neither has any viable replacement nor innovative new policies of his own.
As global oil prices
rise
(with our own little contributions and no gain) the country appears to be on autopilot as we all siddon look and life gets a little more stagnant, a little more fuzzy everyday. When will Mr. President wake up and start moving in a particular direction? As per the governors, the most outstanding one, to the best of my knowledge and deserving of a quick pat on the back and a call to keep working hard at it is Mr. Fashola in Lagos. The judiciary is also a beacon of hope in this literal darkness.
Are the xenophobic attacks a result of jealousy or what???? Can someone tell me now!!!