About Me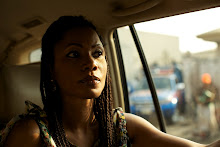 Funmi Iyanda

Lagos, Nigeria
Funmi Iyanda is a multi award-winning producer and broadcast journalist. She is the CEO of Ignite Media and Executive Director of Creation Television
View my complete profile
Friday, November 16, 2007
Friday, November 16, 2007
|
Posted by Funmi Iyanda
|
|
Edit Post
We have been friends since one hot afternoon in 1993. It was in Idia hall at the University of Ibadan that I saw this 6.2 female with a body for days, flexing down the long corridor, humming Rum Shaker in my direction. I knew this was a kindred spirit and she is one of the most amazing human beings I know as I should since we have been through the highest of highs and the lowest of lows our love and friendship firmly in tact. Sometimes I want to strangle the yeye gal for her sheer bloody minded obstinacy, other times I want to gather her in my arms and protect her from her own humane vulnerabilities and yet still other times I cant stop laughing at her madness. Recently I couldn't stop marvelling at Temi's latest expression of her near genius mind, a curious mixture of scientifically trained processor and artistic genius. If only she weren't so bloody stubborn but then I wouldn't love her so much.
One day I will tell you the story of the passion, perseverance, determination and sheer discipline that goes into the production of each
Michelangelo bag and shoe
but then you can see the creativity and attention to detail cant you.