About Me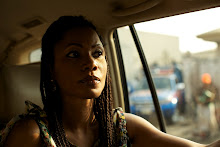 Funmi Iyanda

Lagos, Nigeria
Funmi Iyanda is a multi award-winning producer and broadcast journalist. She is the CEO of Ignite Media and Executive Director of Creation Television
View my complete profile
Tuesday, July 29, 2008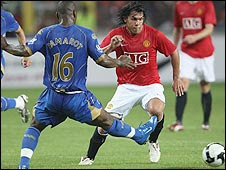 So what's with the odenku denku children who waddled unto the pitch during the Manchester United/ Portsmouth
match
on Sunday?
As it is my new year (its not new year?) resolution to mind my business I will not wonder aloud why the match to promote the Calabar based Tinapa was played in Abuja or why the children were not properly and uniformly kitted? Or why…..
My concern really is about those poor roly-poly children and an emerging tendency towards juvenile obesity in middle and upper class Nigeria. For starters I can bet you my last kazo that those children are off springs of government officials. Why bother auditioning deserving athletic children from a cross section of the society when you can use your own bored, sedentary over indulged little geezers? Why give little aspiring footballers a life enhancing opportunity to meet their heroes when you can give your Nintendo addict a nifty bragging tool amongst his and her mini Dolce and Gabanna wearing friends in school next session?
I totally get that. What I don't get is the sort of crass ignorance that this alarming trend amongst the children of the rich (don't have accurate starts but how many obese children have you seen in your neighbourhood ramshackle local government authority school?) betrays.
Why is it that as soon as a bewildering majority of my people earn, acquire, obtain or receive their blessing, they stop eating whole natural food and proceed to clog their arteries with fat, salt, sugar and additives saturated, over processed, imported food? I often see my people at supermarkets pushing bulging trolleys of dead, dehydrated food with a huge swagger and a huger purse.
Affluence seem to be encouraging too many to over indulge, over feed (mostly on fast food) and over protect our children.
Most of the children on that field on Sunday do not deserve to be there and their inclusion has done nothing but reinforce a sense of entitlement and nepotism which will stunt their development and send signals to other children that their efforts won't count. As a friend once said, the child sitting at home in his original Arsenal souvenir shirt and shiny Nike boots waiting for the driver to take him to football practise at the Astroturf will never be as good a player as the one who has hopped on okada or BRT bus and gone to play on the patched sands under the bridge at Orile. No be curse.