About Me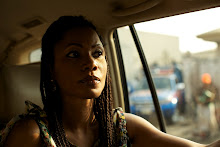 Funmi Iyanda

Lagos, Nigeria
Funmi Iyanda is a multi award-winning producer and broadcast journalist. She is the CEO of Ignite Media and Executive Director of Creation Television
View my complete profile
Tuesday, March 27, 2007
Monday evenings, l can usually be found at the
Silverbird Cinema with my friends Jide and Remi. I
know we make an eccentric looking trio and perhaps we
are .I was billed to do celebrity who wants to be a
millionaire last weekend but l worked as MC till the
wee hours at the girlpower unleashed concert so l
couldn't make the show the next day. Painful because l
really like that show and Frank Edoho is a good guy,
talented, sexy (back off kathrine, (-:just looking)
and funny. If l had gone, there is only one friend l
would have called for a life line. If Jide doesn't
know the answer? Fogedit! He is this 6 foot 3
androgynous walking wikkepedia on everything you can
think off except religion and football. Those two
doesn't "werk"( you really must watch west Africa
idols) for him. A lawyer by training, his thing is to
fight ignorance, oppression and injustice. Thus Jide
has matched at every major demonstration in this
country in the past two decades. He was also one of
those who constantly demonstrated against Apartheid
at the South African embassy in London as a student.
So it is fitting that we decided yesterday to see
Catch A Fire. Jide had been at the premier at the SA
embassy in London with some of the key ANC leaders who
had been jailed and l missed it during SITENGI in
Capetown.
Catch A Fire
is the true story of Patrick Chamsso who
had lived a relatively happy life with his family in
the township slums of apartheid south Africa, avoiding
conflicts and politics he just wanted to eek a living
and raise his family. That was all shattered when he
was accused of being an ANC terrorist and he was
systematically tortured and his wife brutalized. The
trauma lead him into the ANC training camp in Maputo
and a lot of mayhem and deaths later he is a changed
man and a freedom fighter, blowing up a power station
(oh how we cheered at that scene), betrayed and then
jailed at
Robben Island
. His protagonist was played by
Tim Robbins whom I'll always admire because of Goldie
Hawn. Tims carracter was this cold, evil boer police
office who tortured, maimed and murdered with such
chilling calmness and strange charm. An accurately
told tale and well shot film, it rivals Blood Diamond
(l like BD too) and in fact makes Blood Diamond look
cosmetic. I guess the catch a fire story leaves a
white man looking cold and evil and thus may not be
digesteable in Hollywood hence the poor showing at the
bigger awards. In blood Diamonds, the white man
repents and is a hero at last so that preserves the
status quo.
Screen play was written by Shawn Slovo whose parents were
one of those rare breeds of humans, the bravest sort
white South Africans who joined forced with ANC to fight
apartheid. Joe slovo was co founder of Umthonko we Sizwe, the armed faction of ANC and his wife was murdered during the struggle.
The film stuck a deep cord with me because
l was in
Robben Island in February
and all the tour guides
within the prison are ex prisoners and the stories of the struggle are
all on their faces as much as it is in the carefully
preserved cells, voice recording that play back
thought of ex prisoners, pictures and all the
paraphenelia of oppression. Apartheid was one of the
most evil systems invented by man against man. The
holocast killed more and was evil but at least it
happened over a shorter period of time, Apartheid went
on for so long killing the souls of generations whilst
preserving a beaten shell. The recovery is still only
ongoing. As a Nigerian, l have often wondered what
will be that stimuli that will turn complacency and
apathy into decisive action. What will it take for us
to look an oppressor (symbolically or in reality) in
the face and say as Patrick did that "there is nothing
more you can do to me, my life is finished but at
least when my children speak of me, they will say
their father stood up for what was right, for good,
what will your children say about you"?
I go to South Africa and l see that they still have
all sorts of issues but gradually things are changing
for the black south African and non of it would have
happened if there was not a generation brave enough to
stand up for a future they might not be a part of.
As the world struggles with terrorism and publicly denounces racism,
making the right noises about fair trade and helping
Africa. Africa will do better if Africans fight
internal oppression and their external cohorts to
entrench systems and processes of governance that
protect liberty and guarantees prosperity. Otherwise, we
will continue with the Blood Diamondsque fomular where
a white knight (plus female with high emotional
intelligence, very noughties) saves the concentious
African. A formular that is rife in Nigeria now as
every project, business and cornershop must have a
"foreign partner, face or import" and as state
governments give free certificates of occupancy and
stand as bank guarantors to foreigners whilst stifling
productivity within Nigeria. Slavery is real and
enduring, it just has a different toga.
This week l am reading and highly recommed
Banker To The Poor by Nobel Laureat Muhammad Yunus.