About Me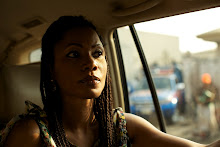 Funmi Iyanda

Lagos, Nigeria
Funmi Iyanda is a multi award-winning producer and broadcast journalist. She is the CEO of Ignite Media and Executive Director of Creation Television
View my complete profile
Wednesday, April 30, 2008
Yes I am enjoying my balcony experience, just watching the world go by or should I say watching the news, stories, events and issues go by. Yes I do feel pregnant with thought, opinions, ideas and stories but I do tend to suffer from inertia being in truth a glutton for tranquility (shamelessly stolen from Kongi) roused only by the realization of the inevitability of involvement and intervention.
Yes I don come with my gibberish. Someone who has done well in my absence is Mutiu who has been valiantly putting up the posts in my absence.
Mutiu
, the quiet and stable suddenly announces that he is getting married in June, meanwhile my longest serving, most loyal, most versatile, most practical team member Abigail (called Abiboy for her no nonsense, hands-on, nothing too challenging, one of the boys approach to work, I wont get into the gender politics of that) had shocked me with an announcement that she was getting married in May, in fact the wedding is on Saturday. I have suddenly discovered my bride monster (mother) instincts.
I have really cool people working with me, the pint sized bulldozing Seki, the deceptively unobtrusive but witty and mischievous Funmi and the rest of the band. We are a lean, mean multi tasking, multi functioning team and we are set now for really exciting times.
Last weekend Seki and Funmi attended the AMAA awards on invitation from the organizers. We always pay the fare, board and feeding for all assignments as with Seki's trip to cover Aishat Babangida's wedding the week before but they were invited on this trip as media guests of AMAA. This is their story.
I was startled awake by the annoying ringing sound of my phone at 5am, it none other than my colleague, the witch a.k.a Sekinat on the phone.
'Funmi, did you get the text message I sent to you?"
Not even a good morning,

"What text, Seki?"

"Funmi get up, get up, Tope just called me now, he says we should be should be at the airport before 7am, that he has tickets for both of us"
Wondering why Tope did not call the night before, I grudgingly answered "Okay".
"Please hurry, you know today is environmental sanitation Saturday, please pick up the cameras at the office on your way to the airport'
Click.

I was tired and feeling unwell, I just completed a malaria dose the night before and I really had thought we would not be going for the AMAA awards anymore, because two days earlier, Sekinat had gone to get the tickets for the trip but had been told to return on Friday; as at Friday evening when we were leaving the office and still hadn't received the tickets, we had concluded that we were not going for the trip.
We should have stuck with our conclusion.

At the Airport
At 6.20am, I am marching into the international airport lobby, struggling with my travel bag and the two camera bags slung on my right shoulder. Sekinat, and a few other journalist are already at the airports, I drop my bags and ask Sekinat, if she had collected our tickets and what flight we are on? , she has no idea, as the man with the details of the trip, had not arrived. I was puzzled, I thought he would have been waiting at the airport, handing us our tickets as we walked in.

I notice also at the airport, a few Nigerian actors and actresses, (Any need to mention the names?) all waiting with their travel bags and boxes. An hour later, he strolls in smiling.
What was amusing him?
I'll save you the long story and drama that ensued, at 8.30am he finally presented us with tickets, but it wasn't our names that were on the tickets. I brought this to his notice assuming that it was a mistake and then he nodded that he knew, but that "we should go like that."

'Excuse me," I snapped. "I can always return home; why should you give us tickets with somebody else's name?

'Isn't there a list?" Seki asked.

He slithers off to meet some other guy, with Sekinat behind him, monitoring and directing him, we finally get our tickets, with our names on it but we cannot be checked in for the 9am flight, the checking in time had closed
We were seated at the airport lounge for 2 hours, when Virgin Nigeria announced that the flight for 11.40am had been delayed for another one hour. I became weak and too angry to speak and looked at Sekinat; we consoled ourselves and had a lousy breakfast of watery tea and meat pie at the snack bar at the lounge.
Finally at 1.30pm, the boarding announcement was made, we boarded the plane. It was not a Virgin Nigeria aircraft; it was an aircraft belonging to Blueline, with white French speaking cabin crew. We joked about the plane and prayed that we will land safe at our destination, a joke that Sekinat took seriously and prayed over four times. Who can blame her, when she had a near death experience flight with aero contractors, two weeks before?
The flight was not good.
The congress hall
By 7pm, we were all dressed up for the event; we arrived at the congress hall of the Transcorp Hilton Abuja, the venue of the African Movie Awards 2008.
Paparazzi were already on the red carpet, snapping away at our gorgeous and not –so-gorgeous celebrities.
The two hosts on the red carpet? It will be unkind to say how poor their work was but perhaps less unkind to say one had on a good outfit which showed off proudly her non pregnant bump!
When we got into the hall, everyone had been ushered out of the hall, to have cocktail, and we had drinks and went into hall.
I was so glad we did, because we wouldn't have gotten seats, not because the hall was full already but because, they had given the ushers instructions on where the press and journalists were suppose to seat.(Please what is the difference between press and journalists?).
The boxing ring at the entrance
The guests started coming into the venue, I was close to the entrance to take pictures as the guests came in, and then all hell broke lose, I started hearing raised voices and saw exchange of blows, between the bouncers at the door of the hall and some of the guests.
The fight started because some people did not have IVs and press tags, and some actors were trying to bring their friends and relations in without Amaa Invitation cards, many unsuspecting guests were caught up the in boxing match and had to fight their way in. It was a pathetic scene.
The Event

It started with national anthem, played on a local xylophone, followed by a traditional performance about Baylesa state. The first hosts for the day were introduced; Chinedu Ikedieze and Osita Iheme(Aki and paw paw) and then the second hosts Ramsey Noah and Stephanie Okereke came in with their nasal Americanized Nigerian English.
Highlights of the event
Basorge Tariah Jnr.
He thrilled the guests with his great sense of humour.
Timaya
- He gave a sterling performance and danced his heart out
P-square
gave a good performance too.
Ms.Angela Basset
, Holly wood star actress, who I doubt was interviewed by any journalists at the event or even interacted with any Nigerian actress at all.
Timi
of West Africa idol

In Sekinat words, there no organization, no content, no glitz, no glamour, no razzmatazz!" and I totally agree.

The Sunday after
We were left stranded. It took a major tantrum to get our return ticket as well as get accommodation for the night but we were lucky, some journalists did not leave Hilton till about 10pm and were lodged in a seedy hotel, they were fed by 11pm and given some money which was not enough to even get them to the airport and buy a ticket. They had to travel back to Lagos by road.

We were thoroughly hammered by AMAA.