About Me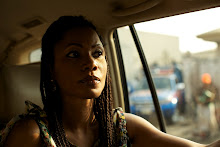 Funmi Iyanda

Lagos, Nigeria
Funmi Iyanda is a multi award-winning producer and broadcast journalist. She is the CEO of Ignite Media and Executive Director of Creation Television
View my complete profile
Wednesday, January 30, 2008
Abeg make una no too vex o but I wan talk pidgin today and I wan talk football. For dem wey no sabi pidgin as dem no be Nigerian or West African, una pele o, you for try learn am as he be correct language. You may want to ask a friendly Nigerian (no we are not all 419ners) to help translate all this. For dem wey be Naija but dey vehemently (wetin be pidgin for dat abeg?) against spoken broken English, mo sori fun gbogbo yin lokan kan (l dey sorry for una one by one, wa sere Lagbaja!). If na because dem dey form say dem be "buha" (butter), make dem stay dere after all everibodi for world don know say too much butter na clogged arteries and heart disease dey follow am not to talk of indigestion wey dey cause pile wey fit be de reason wey dose "formers" dey always frown up and down like morning shit. Dem need to go toilet. No be so I go one yeye "ayecious" (aye, world people, i.e backstabbing pretencious, capish?) event for Lagos wey bi say wen MC tell dem say make dem do ikira, dem begin look like rice and beans even wen some neva pass Murtala or Azikiwe airport since ogun kijipa, abeg clear road for jagajaga jo!
For dose wey no like football, I dey suspect say dem be de type wey dey follow fowl have deep intellectual conversation for road. As per dem wey ask why football again, dem no see
yesterday match
? Abeg AFCON na de biggest fiesta on de continent now, if I no talk dat one I go talk Kenya and no be everyday I wan dey cry. Me I be former card carrying member of SWAN (Sports Writers Association of Nigerian) and veteran of 2 Olympic finals, 2 World cup finals and 2 African games, how I no go talk football?
Dat match yesterday na wah! Dose Super Eagles no go kill person, as dem no win any match so far, dem bin don reduce us to permutations. If de Ivorians fit beat Mali well well, if we score 3 goals, if we use yellow card advantage, if Drogba pity him broda for Chelsea Mikel Obi, if… na so we dey turn dice. Me I kak for chair dey do like I no too care if Benin beat us but na lie, I dey sweat and pray say make we just score goal. Even if we go commot make de disgrace no too much. Una kuku know as our matter be for Nija, we know say we be omo ake (yeye pickin) for many matters but we no fit help to dey hope say at least once in a while dat pickin head go turn small for beta direction. Na so me wit my friends dey sweat and swear through dat first half as our middlefield scatter and dat Yakubu wey "fidi jo momi re" (arse like his mama's) dey mess us up. As Odemwingie (fine boy no pimple) ran everywhere dey try hold it together na so dat small boy Uche (he be like say the boy know say scouts go dey der) self dey try.
By de end of dat barren 1st half we decide say time don reach make we call our ancestors, na him one of de giants go wear her prized new official Nija jersey wey she bin dey save for wen she go Ghana go see finals. I begin chant incantations, de muscle begin to speak in tongues and de returnee begin sing "he's a miracle working God". In fact he be like say I see baba outside sef dey turn tesibiu (prayer beads) as he takes swings from his kettle wey he dey take hide shine shine bobo (star beer).
Wen dat German no gree commot Yakubu come go bring Nsofor in, we wan piss for bodi. Nsofor, Nsofor kini (u get to say am like Ijebu people), no be dat boy we dey shake for goal mouth be dat? And den as tings dey fit turn around sometime for football, Mikel Obi head dat beta cross from Odemwingie in and my people if you hear de screams and see de dancing, why me l no hold camera? I for get beta material for you tube. Quick we check the
oda match
with Mali, dem don score second goal and before you go say fatai rolling dollar, even Yabuku, "I no fit carry yansh" come score goal and den Ivorians kuku ma help us wit dat final goal to nail Mali. Una no see as de German hold body like plank without smilling wen the coaching bench lift am up? Se dem no know say na German? Anyways me I no tink say we need to sack am but dat na talk for anoda day. If he last for here and we use am well well inside Nigeria he go soon be like Westerhof wey don dey look and sound like papa Ajasco.
Me I know say we no deserve am and as usual our people don begin talk yeye say na we God dey wit and carry chest for air, waka like rooster de way wey we dey take vex oda Africans. De tin be say sometimes we just dey nid dis kin high moments to lift our spirits, make una humour us. Meanwhile one of my crase friends don begin bet say we go beat Ghana on Sunday and den go on to win the tournament. I tell am say he go wound o but I don dey collect de money so na
wich side you dey?