About Me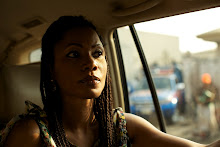 Funmi Iyanda

Lagos, Nigeria
Funmi Iyanda is a multi award-winning producer and broadcast journalist. She is the CEO of Ignite Media and Executive Director of Creation Television
View my complete profile
Wednesday, November 07, 2007
Wednesday, November 07, 2007
|
Posted by Funmi Iyanda
|
|
Edit Post
The news this morning is that
Mr. speaker
is being
accused
of not having done his youth service and of chronic bachelorhood (don't laugh o), apparently a text detailing these grievous nation destroying offences had been circulated amongst members prior to Hon. Bankole's
election
as speaker. The speaker turns 38 today and is calling a press conference to address these urgent national issues.
Abeg na me don crase finish abi na dem? A man is being crucified for his marital status? A man who if we go by his qualifications must have spent quite a bit of time focussed on education and a political career and is maybe only just prime for marriage if he chooses it. What will happen if like Condi Rice a person with great leadership qualities chooses not to either marry or bear children? What about all the married fools (some with five wives and 20 concubines) who have led us into a quagmire? Of course marriage is good especially if you get it right but it is not a prerequisite for great leadership. Some may need to have children of their own to have compassion for others, but there are many who do not. More alarming are the multitude who remain evil despite producing a football team from their loins. I know men in high political offices who do not know which class their child is in and who boasts about not having seen the wife for months but pacify her with a new diamond earring when she vexes. Of course the allegation is shadow chasing but how low are they going to sink? Abeg guys, guys! If you are going to drown a person, find a real boulder to weigh them down, this pebble attempt is laughable.
As per the NYSC, you mean say anyone still dey take that shambolic waste of national funds seriously? It has become irrelevant and dysfunctional providing one of the last bastions of "chop up" for lazy contractors with friends, family and cronies in strategy positions. That said, l do subscribe to the ideal of the NYSC and believe that as long as it is part of the requirement for public service all public servant must complete it. Mr. Bankole does not have the age exempt but isn't there a clause about it being waived for those who have received military training? The speaker is a Sandhurst graduate so that might suffice, l do not know whether it covers military training outside Nigeria though. All those are questions he must address but this let's nail him attempt is too obvious and these "offences" are puerile.
As stated in a
previous post
l don't know the speaker from Adam and have no attractions towards him nor the venerable institution of marriage so this is no favour currying attempt.
He is unwittingly carrying the fragile hopes of my generation, as long as he pursues his job with integrity and diligence, we will support him, we will also ask hard questions of him to keep him on track. So down with the greying, paunchy, self-righteously married baying dogs and let's get down to the business of legislation, starting with the bloody budget.