About Me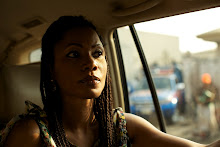 Funmi Iyanda

Lagos, Nigeria
Funmi Iyanda is a multi award-winning producer and broadcast journalist. She is the CEO of Ignite Media and Executive Director of Creation Television
View my complete profile
Monday, November 12, 2007
Monday, November 12, 2007
|
Posted by Funmi Iyanda
|
|
Edit Post
Last night during the Big Brother Africa 2 finale show, I, the shrimp, the giant and I suspect a large percentage of Nigerians had the odds firmly on Ofunneka and were as shocked as she obviously was when Richards's name was
announced
. She never did recover her poise till she fell into her fathers (?) arms post eviction.
I had wanted Ofunneka to win because she was a strong, hard working girl, she obviously was not cooking and cleaning and counselling and dancing and crying and laughing as part of a game but as part of the entity that was herself. My brain recognized that fact and wished her well especially after the statutory rape (please refer to Linda Ekeji's comprehensive
post
on this) fiasco. However there was a devilish little part of me that wanted Richard to win, as that would present many more twists to the tale. If Richard were to win, will he share with Tatiana, will he stay with Tatiana? Certainly not Tatiana as I have little doubt the air headed little so and so would have proceeded to share the loot with that retarded Richard. She did save him once from eviction offering herself instead in a modern day ode to some unnamed Greek tragedy. Now I do not dislike Tatiana on the contrary I thought she was an engaging, happy soul and a sexy woman. I was also persuaded to believe that she trully is in love with Richard. The twist came faster than I expected when she came out of the house and announced that although she did love Richard she had agreed with him that they would both go back to their respective partners if the said partners will have them back. At that point she lost me.
Fast forward to a gloating Richard after he won the $100,000 prize declares also that yes there is a pact that he and Tatiana should return to their respective partners if the partner would have them back. So what other stupid pact do the big brother Romeo and Juliet have in stock? The plot thickens even as I suspect that Mrs Richard might stage a comeback, $100,000 may just buy the lothario some stand by your man reprieve. So where is the love in all of these unless of course those two are messing with us? Is the joke on us? Will the wife come back? Will the fiancé forgive? Will the love endure, and who will get the biggest endorsement? Now you understand why Richard won don't you?
Who is
Eric Wainaina
from Kenya? Any relation of
Binyavanga
? Good question considering the socio politic slant to his song FANCY CAR performed during the finals. It was also the question on all our lips as we swayed and "drove" along to his smooth performance of the song. It echoed sentiments that every African can relate with and had a nice catchy Afro pop/reggae/soul appeal. I really liked it. His band also appeared professional and the performance was streetwise but smart.
One bet I did win was that the closing performance can only be by either D'banj or PSquare. There are no better entertainers in that genre in Africa right now, always delivering electrifying performances whatever the limitations. Last night Psquare did not disappoint.
Btw, Ofunneka need not worry, what she needs now is a good talent agent to leverage all the name recognition and exposure. Fortunately she is smart, articulate, high energy and in possession of a pretty good body. She is also likeable and focused so good luck to her. $100,000 is nothing compared to what she can make as last night's show proved that baring SA, most of Africa's advert spend is from Nigeria.