About Me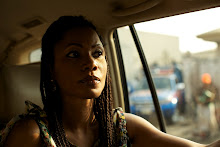 Funmi Iyanda

Lagos, Nigeria
Funmi Iyanda is a multi award-winning producer and broadcast journalist. She is the CEO of Ignite Media and Executive Director of Creation Television
View my complete profile
Wednesday, November 21, 2007
Wednesday, November 21, 2007
|
Posted by Funmi Iyanda
|
|
Edit Post
Well since there is nothing sexy in the news other than the
odd removal
of shaki shaki governors and
allegations
of corruption, I might as well do this now that I may get away with it.
My immediate younger brother is one of those annoying siblings, a better version of you in every sense. He was always the prettier of the two, heck he was the prettiest of the lot (10) until the eye candy came along but that's another story. He is the nicer, funnier, more accommodating one. He is also the better journalist and if I didn't love him so much, I'd hate him. One thing for sure, next time around, if I had a choice in the matter I would choose him all over again because my Mighty is the most loving, loyal and cool brother a girl could ask for. He would kill me for this but he's too nice besides I am the family bully. So
here
is Mighty's random reports on the media and entertainment.
No related, but this recent interview with pastor Paul Adefarasin may be of more than relative interest to you. Here are some
excepts
.