About Me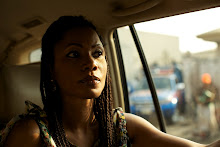 Funmi Iyanda

Lagos, Nigeria
Funmi Iyanda is a multi award-winning producer and broadcast journalist. She is the CEO of Ignite Media and Executive Director of Creation Television
View my complete profile
Monday, November 05, 2007
Monday, November 05, 2007
|
Posted by Funmi Iyanda
|
|
Edit Post
The giant with the Big Brother addiction is away on vacation so I have not been given the usual updates or coaxed to watch thus I did not cotton on quickly to the unfolding scandal. The first person to alert me is an anti censorship, pro Big Brother journalist friend of mine and the level of her anger convinced me that something had gone horribly wrong.
The gist (I didn't watch) I have
gathered
over the weekend is that as usual the housemates were supplied with copious amounts of alcohol and got riotously drunk, woke up with hangovers then were assigned tasks involving even more ingestion of alcohol. By afternoon, the two girls
Tatiana
and
Ofuneka
(Nigerian) were comatose and lying prone on a drunk
Richard
who proceeded to fondle Ofuneka in the nether regions even whilst the girl was obviously too inebitrated to know what was going on, although her body naturally responded. Now, sebi you know I am a near flaming liberal but if this is what occurred, it is grossly irresponsible of MNET and the
globally troubled
Big Brother franchise has run its course in Africa. What Richard did is statutory rape, and all the underlying issues of uncontrolled promotion and facilitation of excessive alcohol consumption, rape and abuse promotes the proliferation of HIV infections and the AIDS pandemic in Africa.
Why did they drink all that alcohol? They want to fit in, win the audience and the tasks and eventually win a $100, 000, that surely is a form of harassment. As a media professional I know that everything and everyone is a pawn in the race to win ratings but to what extent? If the story is true, we must demand that the various regulatory bodies in all the countries to which BB is broadcast around Africa, look into the issue of best practises on the show, otherwise its time Big Brother stopped watching.