About Me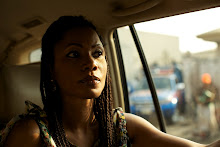 Funmi Iyanda

Lagos, Nigeria
Funmi Iyanda is a multi award-winning producer and broadcast journalist. She is the CEO of Ignite Media and Executive Director of Creation Television
View my complete profile
Tuesday, July 31, 2007
Tuesday, July 31, 2007
|
Posted by Funmi Iyanda
|
|
Edit Post
Just in case you need to get away from the insidious stress of life and just have good clean mindless fun. Go to the cinema and watch
DIE HARD 4
which l have renamed
die hard patapata
.
Bruce Willis
(whom l have watched from his moonlighting days and whom l admire for his Alpha male without the crouch cradling ego persona and lifestyle) returns in a nifty, digital, even witty feast of high jinx and excitement. Look, it can't get louder, tighter, more testosterone driven but surprisingly it has a modern, geeky and slouchy cool.
It is like
Steve jobs
meet
Sly Stallone
. I like it so much l saw it in New York and Lagos and the reaction of the audience was the same, a lot of spontaneous clapping, exclamations and air pumping. Think of your ultimate modern hero feat and Willis' character surpasses it; l mean the man even kills a plane with a car and out maneuvers a fighter jet to spectacular destruction!
From the laconic, asthmatic, and hypoglycemic hacker sidekick to the beautiful ass kicking Asian Villan and the Barack Obama like agent, the film is a bit like riding the raging bull whilst watching your favourite sit-com. It does not try to be intellectual, unduly emotional or preachy, just plain old spectacular crashes, explosions, ass kicking, and baddie extermination in an effort to save America. Just the way you want your summer mindless sun. Whilst you are at it, continue to unleash your inner child with Transformers. As GM cars and trucks (wink) unravel into good and bad robots from my innocent comic devouring childhood, l sit enthralled.
Never have l seen sexier or nastier robots. They are fit, swift, flexible and cool beyond belief. What out for the parents of the lead actor, pure hilarity.