About Me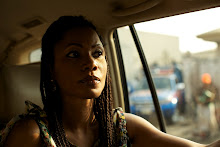 Funmi Iyanda

Lagos, Nigeria
Funmi Iyanda is a multi award-winning producer and broadcast journalist. She is the CEO of Ignite Media and Executive Director of Creation Television
View my complete profile
Saturday, July 07, 2007
I've got a beautiful story to tell you and what perfect day to tell it than this triple 7 day. I of course have the triple 7 line up in my birth date. First a summarized background. If you saw that film pursuit if happiness, remember the bit when Will Smith and his son had slept in the toilet at a train station only for him to need to appear fine and ready for work the next day? Nobody cares about your story just show up and be good. Well l've been in that situation many times and this trip is somewhat like that. The reason for this trip aside from the seminar was that l had bagged a much pursued audience with one of America's heavy hitters which was bound to impact greatly on my career. To swing it and all the logistics around doing the project l needed quite a bit of money which l didn't have. I did all l could to get support or sponsorship but didn't so trusting in the universe, l took out my daughter's five year investment (l had slaved to save up some money every month and invest for her since she was one) to facilitate it. Last week l was told it was off and l sat staring at the email, numbed. I cant even tell them to reconsider on the basis of the risk l had taken, in business, you come out of the toilet, take a German bath (90s generation anyone?), wear your best rag and do the job.
The journey to this point had started on a similar trip a while back when l was so broke my daughter and l had to stay in this mangy motel, the image of she and l pushing our luggage cart down a mosquito infested (yes there are places like that in America) hallway still brings a smile to my face.
As l weighed my options, l decided to take a walk down Madison Avenue to Barneys. As l walked down the block before Barneys l noticed a nice looking store with an African looking, pregnant model like girl with stunning jet dark skin. Turns out she is Senegalese and her flat mate is the gorgeous Funmi Alaiyemola. She started to show me round and my eyes rested on a lovely maroon eyelet mini dress. The fabric is that cotton owambe party lace we so love in Nigeria and l began to feel suppressed excitement, l checked the label and my suspicions wee confirmed it is Le Shade! I started laughing and crying simultaneously.
Last summer on one of my do it or die trying trips l had needed assistance with settling down to my assignments, l needed someone to help get my daughter to Michigan to stay with family whilst l go to Aspen. In true 9ja solidarity, a friend called a friend who called a friend and that's how this tall slim dark beauty rushed from church into our hotel room to the rescue. She wore a vivid yellow lace min skirt that l thought was divine but hang on isn't that our owambe lace? Lara and l clicked off instantly (note our grins above) and she went far beyond expectations to help my daughter and l through out that journey. Now the thing about Lara is that aside her job, she is an aspiring designer who makes her own clothes which had always got people stopping her on the street to ask where she got them. She has an incredible sense of colour and her style is easy, breezy and wearable, using primarily our owambe cotton lace. Because we got on so well we were soon like sisters and this newly wedded younger gal confided her fears hopes and aspirations for her business in me. She had turned a childhood slur (LEPA SHANDY, like me she had been picked on for being skinny growing up) into a business name L~ Shandi. She told me stories of hardship in Nigeria, the journey to America, her mother's bravery and how her family has overcome serious challenges to get education and make a life in America. Best of all she showed me her little "factory" in the basement. Just some old singer machines and bits o fabric were the tools with which she wove her dreams. She expressed hopes that one day she'll be distributed all over America and that Nigerians would know her. I said amen with a conviction that it would happen but l had no idea how soon.
Back in SEARLE (that's the name of the store), l am chatting with Amy from Senegal about Africans and she tells me how proud her mate Funmi Alaiyemola is of Nigeria and how she misses home. I saw Funmi in the 1999 face of Africa finals in Abuja and tipped her to win (as l did Oluchi) she didn't but became more successful than the eventual winner. I interviewed her soon afterwards and was taken in by her beauty, strength of character and sense of fun. In 1997 l ran a fashion TV show and ushers agency and one of my favourite girls happens to be Funmi's cousin, she it was who told me how tough it had been for Funmi growing up, loosing her parents and pursuing her dreams. Funmi is one of Africa's best models and she works and schools out of New York.
As l sat talking to Amy whose husband is in Senegal, my mind is on the millions of Nigerians all over the world toiling and working, all the talents, the skills, the dreams. Same as most of us back at home. With the exception of a few deviant Nigerians and our flawed leaders, Nigerians are by and large beautiful, resilient, intelligent and resourceful people.
Even though l could not afford it, l bought a simple button down mulicolour cotton shift dress from Le Shade. When l called her this morning she protested asking me to come get it at wholesale price. I refused because as a Yoruba woman with trader grand mothers, l know the concept of (se mi lowo), you buy the good to send a message to God as a sacrifice to bless the enterprise. I also talked with my darling best friend Bose, a doctor, scientist, wife and mother who is saving and toiling to complete her research and work on maternal mortality whilst holding down two jobs and consulting and lecturing in LUTH. As l walked out of that store l knew in my core that it is only a matter of time before Le shade makes it to Bergdorf Goodman's, she is already at many stores including Patricia Fields' the style guru of Sex and the City. I also knew in my heart that my own many years of toil will reap more rewards in due course as will Bose and Remi and Pamela and all those gorgeous Nigerian women (men too) out there. It was with renewed vigour that l returned to my hotel room determined to continue my pursuit of significance, which really is true happiness.