About Me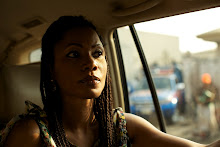 Funmi Iyanda

Lagos, Nigeria
Funmi Iyanda is a multi award-winning producer and broadcast journalist. She is the CEO of Ignite Media and Executive Director of Creation Television
View my complete profile
Sunday, July 01, 2007
I woke up this morning and the sun is dancing on my face through the
five-foot windows in the bedroom of my chalet. I look out and l see
the rows of trees stretched as far as the eye can see with beautiful
homes and gentle streams nettling amongst the vegetation even as they
all are gently cradled in the bosom of an imposing mountain. Is that
snow I see on top of the mountain, in July? I tried to understand the
song the birds are singing even as l recalled the sight of the
indolent deer jauntily strolling by as we returned from the party at a
ranch last night.
Dele Olojede
had said earlier that he and some of
the
Henry Crown fellows
had been interrupted from their wine and
cigars by a benevolent bear the night before. In this my second visit
to Aspen and stay at Aspen meadows l am still in awe at the sheer
physical beauty of the town, the utopia like quality of the lifestyle
and the demonstration of human capabilities evident in the landscaped
mountains and exotic living. As the brilliantly sardonic and American
upper middle class James keeps assuring me, this is dreamland by
anybody's standard. They even have parking lots for private jets and l
cannot describe to you the beauty, style and grace of the many homes l
have visited here. By the way this is a community where the average
corner shop is a Prada store and the community rag is a free, all
glossy magazine with more high end luxury product adverts than all the
magazines in Nigeria and most of the ones in south Africa. As l said
it is dreamland even for America and with the descent of the fellows
from Africa, this is the first ever-largest collection of black people
seen at one time in the town. We were about
25
. The other thing about
this community apart from the insane wealth or because of it is that
the people are super fit and healthy, everyone looks tanned, fit hard,
strong and ageless. It must be all that hiking, kayaking,
mountaineering, paragliding and botox. There are more facelifts per
square metre in Aspen than LA and l have am yet to see a bad hair cut
or non blow dried hair especially amongst the older citizens.
Growing up as a Jehovah's Witness l became familiar with an image of
paradise from the many pictorial representation in Watchtower, Awake
and the many books and magazines they produce. The clean, safe
environment, the happy, smiling, healthy, youthful, (granted no botox
and facelifts) fit (come to think of it, there was never an obese
person in sight in those pictures), people and the trusting
interaction between man and beast (aside the deers and bears there are
dogs of all pedigree crawling out of every crevice here). I was told
that all l needed to do was live a blameless, sinless life and preach
that life to others then l would end up in paradise. Now that l have
seen the location of paradise, l know that all l need to do is make or
marry tons of money and l can move over to paradise