About Me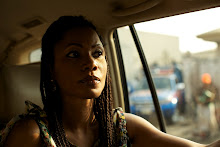 Funmi Iyanda

Lagos, Nigeria
Funmi Iyanda is a multi award-winning producer and broadcast journalist. She is the CEO of Ignite Media and Executive Director of Creation Television
View my complete profile
Sunday, July 22, 2007
Sunday, July 22, 2007
|
Posted by Funmi Iyanda
|
|
Edit Post
The stories came out without warning, raw, painful, ejected in jerky bits from an extremely constipated emotional colon. Perhaps the laxative was the emotionally draining (at least for us) carnival like party we had just attended where the entire poverty stricken village stood on the streets, walls and balconies mouths agape at the antics of the party goers.

We both lay on my bed nursing a common cold and reading when suddenly she says. "l have not been able to finish reading Half of a Yellow Sun, my dad too and my mum cannot read it at all". I knew there was more coming so l kept quiet. She continues, "when l was reading it, l told my mother bits of the story and she broken down in tears each time. The thing is, my mum was a comfort woman during the biafran war and my two brothers are a result of this. Recently my father was due to be made an elder of the church but in spite of his eminent qualifications for the position, he was denied because he had married a woman who had two children out of wedlock even when they found out the circumstances of my brothers' birth".

My very being wept as my friend told me stories from Biafra as told to her by her parents. Stories of injustices which have been buried in a shallow grave, the ghosts of which has hunted this nation for over three decades, the bones of which now threatens to spill out of those graves. I will tell you some of the stories she told me.

The Comfort Women
My friend's mother had been a happy Igbo teenager in Lagos. At the onset of the war, they had to flee Lagos to her hometown. She was almost eighteen. As the planes flew overhead dropping bombs into homes so did the soldiers match into the villages taking girls as young as eight and women as old as sixty and raping them. As the soldiers matched in, the women would run away into the bush with the soldiers in pursuit. They caught some women and dragged them out to be raped but other villager, some of which were women, pointed others out. Perhaps it was fear or in the case of the women, a need to protect themselves but my friends mother knows and still sees the woman who used to point her out to the soldiers. Once in a while some valiant youths would try to protect or hide the women, they were publicly executed. No woman was spared, married or not. Once the soldiers persuaded a young, pregnant married cousin of my friend's mum who was hiding with her young husband to come out. On enquiry as to the identity of the man, she replied that this is my husband. They shot him right there and then before her; she never recovered or marry again. It went on so often and for so long that my friend's mum got pregnant twice and had her two brothers, no one knows who their fathers are. Nobody has documented the plight of the comfort women of Biafra. The Vagina Monologues performance documented the comfort women of Japan and l know my friend's mother silently took solace in that monologue, that is until it was deleted from this years performance to please the squeamish, anaesthetized, pretentious and elitist women who find the monologues offensive.

The ostracized sons of the war
After the war, my friend's grand parents took the boys off their daughter so the devastated girl could rebuild her life and perhaps to help her find a suitor. They were themselves aged and impoverished by the war. For 15 years the mother was known to the boys as aunty and had little contact. They suffered ridicule and confusion, the mother untold anguish. In a culture where the root of a man is so tied to his identity and worth in the community, Igbo land has a generation of men whose fathers are unknown (l suspect some are generals and retired generals of the Nigerian army) and whose history are unspoken except in occasional jeers and as a tool of oppression. The women thus born can be married off and assume their husbands identity but not so the men. Some of the raped women were married and bore those children within an existing marriage. Nobody has studied the socio-political effect of this on Igbo land. It is the elephant sitting in the town square for over thirty years. Will it keel over and die some day or will it get up and trample underfoot all those walking by?

The boy and his mattress
According to my friend's dad, many more people were cold bloodedly murdered after the war by the soldier in anger for no apparent reason. During the war they had all been hounded out of the villages into Umuahia, which is like forcing the whole of Lagos into Ikeja. At the end of the war, they gathered what was left of their belongings and began the journey home. All his family had was a mattress, which he put on a wheelbarrow with his 3-year-old sister sitting on it. As they joined the throng of humanity walking to the villages, a soldier stopped him and asked who owned the mattress. He said it was his and the soldier pulls it knocking his sister to the ground. At that point my friend dad said he lost his mind, he forgot the many executions he had witnessed for less infractions but suddenly he cared not whether he lived or died. Something had snapped and he was not going to let this vermin take all that was left of their possessions so he began to drag back the mattress with the soldier cocking his gun and threatening to shoot. As it happened a senior officer stepped in and gave the mattress back to him upon which he return his crying sister to her position on mattress on the wheelbarrow and continued the onward journey to uncertainty.

And Now?
This man who had endured all that ignores convention and marries a young girl who had been so brutalized and they build a life together, raising beautiful daughters and supporting others (my friends mum recently took in a teenager who had been raped, abandoned by her family and pregnant with child). So does a man like that get a pat in the back? No, the church slaps him in the face by refusing to make him an elder, yet another example of our outstanding hypocrisy as a people, this same church will probably make a rapist (l know a true case) an elder as long as no one talks about it and there is no outward proof of his transgressions.

After Biafra, there have been many pockets of violence and injustices buried in the same shallow graves all around. The toxic fumes of which are evident in the larger socio political context of our lives and our values, the result an untrusting country of nationalities unable to find cohesive unity of purpose. The fear as l have been told is that we don't want wars or conflict so we must never examine such issues. As the Niger Delta situation continues to deteriorate, how can we continue to fool ourselves thus?