About Me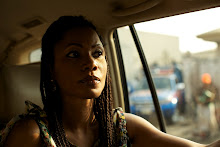 Funmi Iyanda

Lagos, Nigeria
Funmi Iyanda is a multi award-winning producer and broadcast journalist. She is the CEO of Ignite Media and Executive Director of Creation Television
View my complete profile
Friday, August 03, 2007
Friday, August 03, 2007
|
Posted by Funmi Iyanda
|
|
Edit Post
Its only a little story but l wrestled with telling it at all. In the end it told itself. His name is Tunde and last Thursday l stood watching him in the sunlight, he drawls his words through mouth slackened and crooked by the accident. Spittle dribbled through his yellowed teeth as the words gurgled out of his mouth. His body is completely emancipated in the manner of the famine survivor stumbling through the gates of a refugee camp. His skeletal finger makes slight jabbing movements seemingly to lend power to his feeble speech. His death mask face is immobile but shockingly his eyes are bright and clear, his manner weak but matter of fact. Those around us stare in confusion, l suspect less at the sight of Tunde but at our manner for we carried on as though in contemplation of the lairy weather. I can smell his ailment even as l leaned closer to him; my face remains expressionless, experience has taught me not to display ineffective sympathy, pity, fear or anger. I focus on the facts even as my core weeps.

Tunde came to me 3 years ago, as a budding freelance sports reporter, he had been in a ghastly accident that broke his ribs and punctured his lungs. When he came he had already been mauled by our ailing health care system and his family impoverished by his travails. He was not so thin then and his mouth was still in front of his face, he is one of the many who come. We turn back the most hopeless cases, harass, beg, and solicit support for the bad cases. The fair cases we solve ourselves, we don't accept money directly. Tunde's was hopeless but he is a friend to two boys whom l mentored and who are successful full-fledged sports journalists now so he is like aburo (younger brother) to me. You don't give up on an aburo.

After 2 years and some operations we were told he only requires a last corrective operation in Luth so we got support for him from Lagos State government who part paid directly for the operation, case closed or so l thought.

Many of the people who are assisted never come back to me, they don't need to, the knowledge that they are on their feet again suffices so l assume Tunde was back doing what boys do until last Thursday when this shell with Tunde's soul visited me.
Apparently the operation was half done, the other half had been delayed because he was waiting for equipment which LUTH had taken delivery of, but not started using.
I know the story of those equipment. Perhaps you read about it in the papers too, the last president commissioned some multi billion-naira overhaul of the teaching hospital. As happens here, the equipment arrived and sat in containers until such a time when the president can make time in his schedule to commission them. They waited almost two years. Post commissioning in the last days of Obasanjo, it was discovered that some had become faulty and some were substandard. There are whispers that the exorbitant kickbacks demanded occasioned the need to subcontract. That of course might be a lie. Now in all of this someone forgot to train the staff so another year of training is in the offing. The maintenance contract is for 5 years so add the 2 lost years to the 1 (conservative) training year and you get the picture. In all of this drama Tunde is dying, many more Tundes have died, much more will die.

So as we both stood casually considering his options, we did it with the unemotional matter of fact ness of the lost. Our sanity is dependent on it.