About Me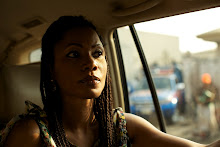 Funmi Iyanda

Lagos, Nigeria
Funmi Iyanda is a multi award-winning producer and broadcast journalist. She is the CEO of Ignite Media and Executive Director of Creation Television
View my complete profile
Friday, February 05, 2010
Friday, February 05, 2010
|
Posted by Funmi Iyanda
|
|
Edit Post
It started around about this time last year, l lie, it started perhaps two years before that or maybe it started a long time ago. l don't know. We know a lot these days but we really don't know anything do we?

I sometimes sound mad but l am comfortable with my near insanity knowing as l do that technically l am in a population demographic majority. We are all mad but undiagnosed. And why not? Aside from an absentee president and the insane drama around what should be done about that situation, there is the attempt to impeach the one clearly successful governor in Nigeria, the fuel crisis, the worsening power situation, the corrupt and ailing banking sector, comatose manufacturing sector, an errant bomber, simmering religious tensions and professional kidnappers who nearly make Niger delta militants look tame.

There is also a lot of good to great things happening but that is not my focus today.

One of the limits of my madness is a refusal to engage in those draining diatribes on Nigeria and what is wrong with her. It's a tried, tested and continuously failing cop out.

l have sat in the company of bank MDs who stole billions of money, ruling party leaders who manipulate the electoral process and steal billions on naira, pastors of un taxed mega churches where all the above pay staggering sums in tithes and contribution and listened in disbelief as they all moan about bad leadership and the Nigerian situation.
I have often mentally checked my teeth for visible spinach; perhaps the joke is on me?

So make l for no crase finish l ask simple questions like, "so what do you think we should do" what is within our own control immediately and how do we build on that? "What will my role be in that"? Usually, the conversation goes no further because l sometimes think both Nigerians and foreigners have a morbid fascination with Nigeria's undeniable failures.

Why a person who doesn't know me thinks its' polite to greet me with "Hey Funmi, so why is your country so messed up?" then go on to describe in graphic details the latest news of calumny from Nigeria is beyond me. l don't meet anyone and dive into the latest tale of horror from their country since l am informed enough to know that individual cases does not represent the nation nor can l interpret their experiences completely through the prism of my own cultural yardsticks. Even with dire situations like Congo, my enquiry will be more of seeking understanding and extending solidarity than a rampant need to gleefully inform me as though l too have not read the papers today. But foreigner l allow, sometimes people need to see others in a bad light to bear the ordinariness of their own existence.

Don't get me wrong, l daily have many moments of an intense desire to supervise a Jerry Rawlings like clean up. If l thought that everyone will join a match for us to physically go into many a political or business leader's office, lift them off their usually fat arses, roll them in their agbada or wrapper and dump them in the river Niger, l would.

So what should we do? I can give you an answer as to what we should do regarding my industry, no, wrong word, there is no industry just incestuous deal making, l can tell you what we should do about my sector. I say we to be inclusive of not only the players but also the spectators in this roman lion fight arena that our situation sometimes feels like.

So one of my 2010 things is an invitation called "so what can we do" for different sectors. You can send me your thoughts or someone else's thoughts, thesis, ideas or inventions.

I will also tell you about individual projects, people, ideas and developments that may interest you and help dispel some of that sense of otherness, non contribution and non viability that perhaps underline our hopelessness and consequent emotional haemorrhaging, the source of our collective undiagnosed madness.