About Me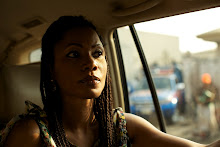 Funmi Iyanda

Lagos, Nigeria
Funmi Iyanda is a multi award-winning producer and broadcast journalist. She is the CEO of Ignite Media and Executive Director of Creation Television
View my complete profile
Thursday, February 18, 2010
Thursday, February 18, 2010
|
Posted by Funmi Iyanda
|
|
Edit Post
I met
Godwin
when I delivered a talk at the University of Ibadan a few years ago, he was a student leader. I thought he was one to watch and he has maintained communications with me since then through many interesting job experiences all related to his passion about change. He and yet another outstanding young person
Gbenga Sesan
are behind the Microsoft supported anti cyber crime song maga no need pay. The
video
was recently released.
I was supposed to be in that video (why pray tell?) but was ill when it was shot so you'll see a little girl wearing a tee shirt with my name on, something which I find worrisomely pleasing.
It is directed by the totally cool Kemi Adetiba and features a number of stars and celebs. It is a good initiative, now we just have to fix the underlying socio economic causes of cyber crime.