About Me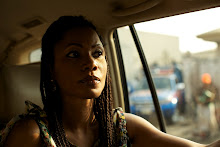 Funmi Iyanda

Lagos, Nigeria
Funmi Iyanda is a multi award-winning producer and broadcast journalist. She is the CEO of Ignite Media and Executive Director of Creation Television
View my complete profile
Thursday, February 18, 2010
Thursday, February 18, 2010
|
Posted by Funmi Iyanda
|
|
Edit Post
This is one of the best books I read last year. I met the author Chika Unigwe at TEDex Euston and she packs a punch in presence and delivery. She strutted on stage in four-inch platforms, miniskirt and red shirt, her full locks contained even as her eyes shone with private mirth and intellect. I instantly liked her.
Her talk about her own personal struggles in a new country post inter racial marriage and her conquest of these as well as her audacious research for the book was delightful and inspirational, can't wait to see the video on TEDx Euston. I had to read the book.
The story of four prostitutes bond by common tragedy and inevitable hope. It is a well-observed thoughtful and unflinching journey into a world of dashed dreams, death, wanton callousness, love and redemption. It is girl power without the cheese and artifice. I really like it.