About Me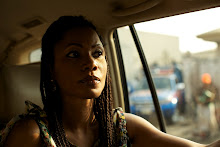 Funmi Iyanda

Lagos, Nigeria
Funmi Iyanda is a multi award-winning producer and broadcast journalist. She is the CEO of Ignite Media and Executive Director of Creation Television
View my complete profile
Monday, February 22, 2010
Monday, February 22, 2010
|
Posted by Mutiu Okediran
|
|
Edit Post
So why didn't you edit out the bits with Toni Payne in the 9ice interview seeing that they are now separated?
When we filmed, they were still very much together and in love and spoke so glowingly one of the other. Perhaps I secretly hoped that showing them what they meant to each other would remind them of what they may have taken for granted, as we all tend to do in relationships. It can't be easy on a young couple with a baby who also have to grapple with fame, self-actualization and the expectations of other people. They were very happy together at the shoot. I feel for them and I hope they resolve it. Ultimately it is their call and I wish them both happiness.
Why the choice of 9ice for the hip hop edition?
We planned to have 9ice, Dbanj and Wande Cole. I love 9ice' originality, Wande talent and Dbanj's artistry but tying down three very busy musical stars for an all day shoot was not easy. Dbanj had to travel unexpectedly, Wande Coal came late and it rained cats and dogs on that day so ID was kept waiting for a long time. We are already getting requests now from other musical starts that want to be in series 2 now that they see what it will look and feel like. We have exciting plans for series 2.
What is written on your tee shirt why the choice of costume?
Sisi Eko, (Lagos Babe).
It was Bayo Haastrup's styling. I wanted to wear something hip but still age appropriate and cheeky. The Deola Sagoe tight tight tee-shirts are hard to pull off and the designers club bedazzled jeans was fun with the bottoms turned up showing the impossibly high structural wedges. I could barely walk in them so I took them off between takes.
Is your singing really that bad?
Absolutely
Who is the musician planning to contest for governor whose name 9ice whispered in your ear?
Wouldn't you like to know;)