About Me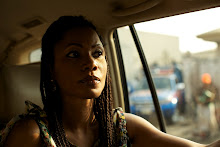 Funmi Iyanda

Lagos, Nigeria
Funmi Iyanda is a multi award-winning producer and broadcast journalist. She is the CEO of Ignite Media and Executive Director of Creation Television
View my complete profile
Tuesday, July 03, 2007
Tuesday, July 03, 2007
|
Posted by Funmi Iyanda
|
|
Edit Post
They asked for ID (you need an ID to breathe in America now) and I pulled out my green passports (three stuck together, many visas, as Nigerians we require visa to exist) in resignation. As expected he says, maam, you need to step aside… and so began the second search of my person and possessions in a walled off corner of the security gates. Post 9/11 l know that by virtue of my nationality I am high on the security random profiling list for terrorism (plus drugs, 419, child trafficking and prostitution), why l don't know for sure. All day they had been announcing that the security alert has been raised to orange and last night l had watched reports of the botched terror attacks in the UK. As l endured the indignity of the search, my mind is on this unwinnable war on terror. What will it take to make the developed world a safer place? We on the other hand are used to living in an unsafe world and before someone shouts about lack of parallels, consider the numbers that die daily from malaria, AIDS, TB, childbirth, armed robbery attacks, air and road accidents and such in a country like Nigeria. You might argue that the terrorists (politicians) in most African countries are within but one cannot deny the cumulative effect of colonial legacies, complicit multinationals, unfair trade laws and tacit support for bad governance whose trail leads right back to the developed world. Even if it is to stem mass migration, reduce the inequalities that are the tools of fundamentalists or just create new markets in youthful economies, the west must consider other methods of achieving internal security.
As l flew out of Aspen l noticed that there were even more private jets parked than usual, expected as some of the heavy hitters are flying in for the institute's ideas festival. The likes of Gen Powell, Bill Clinton, Richard Branson and Wyclef Jean. One of the high profile items on the agenda is the concert by jean and the focus on Africa. It would appear these days that you cannot get away from Africa talk.
When my friend Jide downloaded the 20 covers of this month's vanity fair 2 weeks ago, we were both peeved that there we only 3 (2 non resident in Africa) Africans amongst the stellar cast on the covers. Naturally we began talking about who is talking for Africa now and what they really know and this tiring unending image of Africa as one monolithic mass of dejection. I had my copy of the magazine with me during the search and watched as the security officer carefully (with gloved hands and gauze covered spatula) rift through it. My mind is fixated on those gloves and spatula, thinking how it is that doctors don't have these in some hospitals in Nigeria.
During one of my session in ACT II, the conversation was on global business and creating job opportunities to the poor majority of the world. I recall making the point that the tendency to see the poor as a non-viable inferior entity that must be helped is erroneous and is at the heart of the inability of the developed world to engage Africa on terms other than as a homogenous aid needing tragedy. Kimberley, our moderator then raised the issue of the controversy that aroused during the
TED conference
in Arusha, were some young bright entrepreneurial Turks of African origin had more or less heckled Bono and protested against the aid based approach to solving Africa's problems.
I do admit to a sense of disquiet about this new breed of crusaders and their methodology although l am persuaded of their passion whatever its root and find campaigns such as Bono's
ONE
Campaign compelling. To think that spending $200 billion a year will only amount to 1% of the budget of the "rich" world seem such a little thing to ask for. Should the money go into aid or investment or a combination of both as well as whom and what the conduits for such monies are is the real thrust of the matter. The West usually talks to the wrong people about Africa, l know this to be true certainly of Nigeria. They may talk the talk but only because they have learnt to do so. Finding and engaging those who actually walk the talk and most probably have no time (too busy trying to fix what usually is a basket case of misery) or the learning to talk it is the real challenge.
As a new generation of Africans insist that they must be engaged with and perhaps spearhead Africa's recovery, l call into question what their moral authority on, commitment to and knowledge of the majority poor. I am constantly faced with the emotional detachment of the new emerging middle, business and intellectual class of Nigeria to the challenge of reducing poverty. This generation may be more exposed and more educated than their forbearers but are they not just as guilty of the lack of understanding that leads to the sort of decisions, which widen class, and opportunities divide? Rampant cronyism, in trading and borderline criminal business collusion with dubious government officials is still the norm in corporate Nigeria. I have many young Turk pals with outstanding degrees from some of the most prestigious institutions in the world who are advisers, consultants and officials in governance and business, what l see frightens me.
This is not to cast aspersion on all because there are those who are genuinely concerned with building truly prosperous economies in their nation but we need to turn this harsh questing light on ourselves to evolve a self sustaining, self policing system which encourages
prosperity and freedom.
As this generation asks such hard questions and make tough demands of herself then we can confidently engage the growing army of external messiahs and leverage their collective star, intellectual and political power to pull ourselves and our people, majority of who are poor out of the abyss. Then the world will be forced to stop reducing us to a single dejected picture. Lets take a cue from Lee Kuan Yew who decades years ago went against the grain of popular ideology of the time and invited western business just so he can start with giving his enterprising people jobs so they can at least feed themselves, whilst he puts in place radical educational and economic policies that were the building blocks of today's prosperity and superior world image. I know it is not as easy as all that but that is the point exactly it is not meant to be easy but never has their been globally a generation more prepared, more virtually connected and more capable of achieving such audacity.