About Me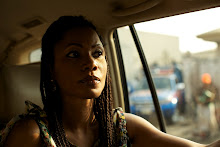 Funmi Iyanda

Lagos, Nigeria
Funmi Iyanda is a multi award-winning producer and broadcast journalist. She is the CEO of Ignite Media and Executive Director of Creation Television
View my complete profile
Wednesday, July 25, 2007
Wednesday, July 25, 2007
|
Posted by Funmi Iyanda
|
|
Edit Post
Battling a flu and crazy deadlines so let's have fun. As l and my
fellow "FUNBOBS" (tell you about them one day) fervently believe, always stick a cheeky tongue out at bad times and tides not only will they pass, you would have pissed off the gods of ill luck so royally that the gods of fortune have no choice but to chuckle at you in approval. If it happens that you pass before they pass, oh well you would have had a bloody good time.
I always get the how do you put is all together, you must spend a
fortune and humongous amount of time and thought on it question. The answer is hell no!
I've got a perfect example for you. Came back from America with ruined skin, ratty hair, latent flu and heavy workload which l promptly threw myself into, no rest for the wicked o. By last Friday l was beat but there is no way l can avoid going to Dele Momodu's mother's burial for the simple reason that l saw the lady in her last months and in her fragility, l saw strength, l wanted to honour her. Also l had been unable to attend any of Mr. Bobdee's milestone events in the last 4 years.
Trouble is, how was l going to go from frump to fab overnight, l have no time or inclination to do nails, hair, skin wax, polish and professional makeup plus my
aso ebi
is unmade.
I called a friend to make anything she likes out of the Ankara which (God bless her) she did in four hours. This is what l then proceeded to do.
I had not been able to fit the dress so it hangs loose and unflattering.
It needs a little drama so l pull out a full lace wrap skirt and tied it on low hanging (for proportion) beneath the dress
and cinch my waist with a huge black belt to disguise the poor fit and hold the look.
Next l wear 5-inch ankle tie platforms to distract attention from my claw like, chapped toes and bruised heels.
With my hair, l simply cut two yards out of the Ankara and wrapped it high and up (emphasizes the neck and cheekbones).
I never wear make up unless working or going out but I'm not crazy enough to drag my friends Bayo, Nenim or Kazy out of bed at 6am to put make me up. So l put a bit of liquid concealer on the acne scars, ignore the fresh zits and brush on some of my friend Bose (wrong shade)'s loose powder. I had lost mine and not noticed; l would have gone bare if she didn't have hers. I can't do eyes or brows and l have sleep deprived dark circles so l plunk on my cheap (drug store bought) huge dark shades to hide all.
I put on my trusted reddish lip-gloss, oodles of self-acceptance and a happy smile and l am ready to go with my usual motley crew Jide, Remi, Ade and Ijy.
So when you see the pictures of me at Bodbee's mother's burial in Gbongan, know that l am winking at you, its never about money, its about knowledge, self assurance and a great attitude. Trust me l can pull off a N500,000 dress and million dollar accessories but l would never spend that kind of money on such in a country like ours, l cannot justify it to myself. Even in Hollywood most of it is given free as part of the wheel of commerce. Some of the most stylish people at that party as l have found with many parties are not the most expensively dressed.
I just loved this young man's pizzaz.
As for me, this is my sum total for that party. Dress N2, 000, skirt £80 on sale, sunglasses £20, shoes £65 on sale, jewelry price on application;-), belt £60. Confidence based on self-acceptance and knowledge? Priceless.