About Me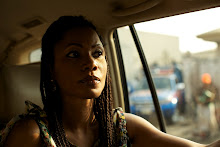 Funmi Iyanda

Lagos, Nigeria
Funmi Iyanda is a multi award-winning producer and broadcast journalist. She is the CEO of Ignite Media and Executive Director of Creation Television
View my complete profile
Monday, July 02, 2007
Monday, July 02, 2007
|
Posted by Funmi Iyanda
|
|
Edit Post
Due to some genetic anomaly, l am given to deep, oft convoluted and confused thinking which my friends swear must be one of the reasons for my high metabolism, l burn fuel just staying alive, thinking. I can vividly remember that at age 7 l used to sit and stare at the stars and try to understand existence, why am l here, why me and not some other kid for my mama, how do l add up in comparison to all these other people and the earth and the stars, where will l go after here and what is it like there. The Christian religion provided some answers soon enough but because of my rather colourful journey through the Christian faith (baptized catholic, raised cherubim and seraphim then Jehovah's witnesses, became a reluctant born again Pentecostal in young adulthood and now ….) the answers where often conflicting. For example l was told to be sinless and blameless so l might go to heaven by most but the witnesses said the reward was an earthly paradise. What constitute sinlessness and blamelessness is hardly uniform except on the topic of sex. Religion has an obsession with sex. The concept of heaven and hell strangely never had the desired effect on me. I was neither afraid of hell nor desirous of heaven but l wanted to please God and honour the earth and other humans. Hell never scared me because in my childhood mental gymnastics l had become convinced that since the sphere before here is an unknown, unremembered entity, it either doesn't exist or is not affected by my actions or inactions in this sphere besides if one is to burn in fire perpetually and eternally, it becomes the norm and therefore painless. Similarly as hell failed to strike the required mortal fear in me so did heaven fail to arouse the great desire. It just always seems to me that heaven will bore me to tears. Clean, blameless, white clothed, singing people eternally happy and smiley? Where is the challenge? If happiness is eternal and the norm how will we appreciate it as a desirous emotion since we have nothing to compare it with. In an existence where it is all done, all perfect where is the joy? Unless the nature of man will change, in which case we became other types of creatures, the eternal pain or happiness argument never worked for me. Ditto the concept of paradise, l am more inclined to accept a utopia on earth but it still seem to me that it would be a bland boring existence where the plants, season and people are perfect and healthy and happy whatever they do or do not do.

However since l am a believer in intelligent creation whether He or She is God or a non embodied intelligence, and desirous of a mostly happy existence here on earth in my allotted time and a similar existence for the largest majority of all such fellow humans on this sojourn with me, l am interested in understanding the nature of that intellect and the rules which work best to create a mostly happy existence for the largest majority. That is my spiritual quest, not out of fear or selfish desire or egotistical quest for immortality but a desire to make the best of this gift of life that l have and know for myself and the rest of creation and to happily expire into the nothingness that l came from. Now what is so scary about that?
Note of course that all this introspection today is the result of being bored stiff in paradise, all the order, beauty, security, the clean, happyish, fit, healthy mostly white (The waiters ignored me for 30 minutes at a restaurant yesterday until l asked if l was required to dance naked before getting a bowl of mussels) people are beginning to get on my nerves.

I leave Aspen this morning for the flawed big apple, l am more comfortable with the constant pursuit of happiness and perfection. How will we recognise pleasure if we have never felt pain?