About Me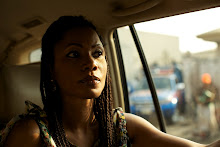 Funmi Iyanda

Lagos, Nigeria
Funmi Iyanda is a multi award-winning producer and broadcast journalist. She is the CEO of Ignite Media and Executive Director of Creation Television
View my complete profile
Monday, July 30, 2007
Monday, July 30, 2007
|
Posted by Funmi Iyanda
|
|
Edit Post
It's the last day of my periodic, self imposed news fast and as expected l am getting more angry as l do my quick glance (most of the writing is unreadable) through the papers. From the horror stories and opinions to the horrific journalism, there is little respite for the rising temperature behind my ears. So Alams
walks free
and some pseudo university is imposing a mandatory pregnancy and HIV test as a condition to collecting degrees post graduation! I am frowning fiercely when the shrimp saunters into my study and noticing an alien object amongst her knick knacks (pictures, painting, letters, songs) on my wall, pull down the offending picture. I watched her face as curiosity turned to awe and then a grimace. "Mummy look, this man must be a fake man". Why do you think so l asked. Look at his body, how can a body be like this and look at all these things (veins) on his body, he is a fake man she declared with certainty. No darling says l, this is not a fake man, he is an athlete they are called body builders and they do a lot of training and disciplined eating to be like this.
Ohhh, she exclaims in wonder, can girls do this too? Certainly l said, in fact there are many girls who do it. At this point l show her pictures and stories online of body builders. At the end she exclaims, cool mummy can l do this too? If you want to l said but the problem is your body is naturally androgynous and might not be able to attain such proportions without drugs, which are bad for you. What means that, she says mischievously. Oh common miss you and l know you have outgrown the "what means that" stage so try again. Okay mummy what do you mean? I said your body is naturally long and lean and you might be better off as a long distance runner, tennis player or high jumper, if you force your body, you will need drugs and drugs can make you sick and even kill you. Okay mama, she says now looking at Muritala Idowu with newfound admiration and respect. In 10 minutes, we went from
ignorance driven fear and distrust to knowledge based respect.
Last Thursday Chimamanda Adichie joined myself and the other ladies on the women's panel edition of the show to interview the frankly awe inspiring Muritala. He told of the sort of immense discipline required to not only build and maintain that body but three months to competition the will required to step up on a quelling diet and exercise regime. To understand his motivation perhaps one need to know his background. This is a naturally muscular young man who as a carpentry apprentice in Ajegunle and Amukoko started bodybuilding with the flywheels of abandoned cars. His journey from Amukoko, through escaping the gangs and crime of Ajegunle to self training at the national stadium, to enrolment at the institute of sports (sans much formal education) to gym instructor at proflex, to competitive body building and eventual top 10 of the Mr. Universe competition (Gov Arnold's starting point) is a tremendous awe inspiring story. He currently lives in Belgium and competes around the world holding titles such as top 10 Mr. Universe: Mumbai India 2003; top 5 European winner: St. Petersburg, Russia 2003; Winner Heracles Super Cup International; Best Belgian Bodybuilder 2003-2004. His goal is to win Mr. Olympus.
As l returned to the papers and continued to read more stories of the true fake men and women in Nigeria in the papers from the vainglorious to the criminal and the cacophony of sycophantic voices propping them up. I pay a silent homage to the likes of Muritala in different areas of life in Nigeria who against all odds achieve the truly extraordinary. I am also happy to be in a position to show young minds, starting with my own shrimp, the ability to recognize the difference. It is going to be a great week.
This week l am reading Baldesar Castiglione's
HOW TO ACHIEVE TRUE GREATNESS
.
A little video clip of the interview with Muritala Idowu will be
available on
New Dawn Videos
from Thursday and pod cast of a one on one with him on this blog in two weeks.