About Me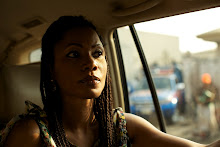 Funmi Iyanda

Lagos, Nigeria
Funmi Iyanda is a multi award-winning producer and broadcast journalist. She is the CEO of Ignite Media and Executive Director of Creation Television
View my complete profile
Friday, April 30, 2010
Tarkwa was an experiment that paid off. I cannot remember if it was in our original show plan or not but it all started with a photo shoot. Eniola, our tireless PR and media lady had declared all my old pictures too psychedelic and wanted more "relatable" pictures. What that means of course is that she wanted my driven, determinedly single, opinionated, journalist/ media business owner, sinewy self softened into a more agreeable, rounder figured, homely, Ankara wearing, non threatening Nigerian woman. Poor thing, l only looked angry in most of the pictures we took. Must tell you my two-year attempt to be more "relatable" and the day I threw out the bullshit with the two faced plonkers who require it. Oh shit! I'm also not supposed to swear, good relatable women and stars do so they can get huge endorsements only to be caught pants down and then booed by the media, go into hiding, come out and shoot a creepy commercial. OK. I am PMSing. Where was l? Yes Tarkwa so the first pictures were so bad and so fake that Eniola decided to do another set with a different photographer. Bayo suggested Tarkwa Bay as a good backdrop and we got Musa Musa (so good they named him twice) to do the photography.
As we were discussing the shoot, Chris then had the idea to use our shoot as a test run for his TWF shoot.
So on the 19th April 2009 we all got into boats and went off to Tarkwa bay. Our man on ground was Eskay whom l had met through my friend and lawyer Morenike Nedum, nee Ransome-Kuti and my old friend Illemakin Soyinka. Eskay used to road run for Fela and is a fixture of the Ransome Kuti/ Anikapo Kuti families. Eskay is hard to describe, a slight wiry man with a sarcastic tongue and accidental humour, he is a survivor of many pro democracy rallies and a bit of an aging rascal.
On arrival, we were met by 'Highest', his tattoos and scars tell an eloquent story of his past. It was my first time at the village, l usually go to the beach and was completely oblivious to the community behind it. The village was tense and antagonistic; we only got by because we had Eskay and our bodyguard. After getting the communities cooperation, we settled at a bar where l was provided with a piece of muslin cloth to hand between two doors. This was my changing room. As Musa Musa set up, l was in hair and makeup and all sorts of characters stopped by to say hello.
There was the Rastafarian gutter man and the Liberian mama! With an exclamation mark please.
As usual l need to pee and soon found out that the toilet was somewhere right on a path between two villages. The stench and rot curded my mind.
Not that you could tell as l posed for photographs as the people watched, some scornful, some curious. The most outstanding thing was the loud sermons blaring out of the loud speakers at the nearby mountain of fire and miracles church. I cannot tell you how surreal it all was. I later found out the people were so unwelcoming because of a recent army raid and rumours that we were spying for Governor Fashola whom they hear plans to bulldoze the villages. It took a while to convince them otherwise.
After the shoot I interviewed a very intense bone setter's wife who at over 50 and 6 children had the most toned arms, a result of decades of rowing and fishing. I was told she is the hardest working citizen of this place and for years would be up at 4am to fish with babies tied to her back. She now sells pure water, as she no longer has an engine for her boat.
I also interviewed her husband the bone setter and the Liberian Maama! Finally we moved to the beach where l did the second part of the photoshoot and then changed back into my TWF costume to interview a few beach goers before a race to interview Azeezat the music star by fire at dusk before we lose the sun. The idea was to have a picturesque beach fire setting. Well we lost the sun and almost lost our minds after such a grueling day.
Well, you know what? We had to redo it all again minus the shoot 4 weeks later after we returned from filming all the other editions. Why? There were unforgivable errors from some of the crew we were testing so Chris got on the plane to South Africa to find new crew to join the few on ground crew who made the grade. That was the crew we took on the road.
So it was that on 24th May 2009, we returned to Tarkwa, we had to recreate the same look and feel because we were mixing contents from different shoots. We shot every single scene and interview again; Chris is anal. In addition we shot good new interviews with the bonesetter's son, the CDA chairman and new beachcombers.
For those of you in Africa, see if you can spot the difference at least on my person;-).
We almost shot at by the naval patrolmen on the waters as we rode back to Victoria Island at night but calmed our nerves at Tarzan jetty were Sunday nights are a ball.