About Me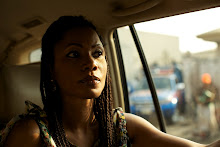 Funmi Iyanda

Lagos, Nigeria
Funmi Iyanda is a multi award-winning producer and broadcast journalist. She is the CEO of Ignite Media and Executive Director of Creation Television
View my complete profile
Friday, April 02, 2010
Wednesday May 20th 2009
I woke up feeling ill so I suppressed it but my eyes were dead and I was jumpy. Perhaps to hide the ravages, make up and wardrobe took a while but the boys surpassed themselves as you couldn't tell how poorly off I was in my energy Ankara dress from Deola Sagoe, pillar box red lips and my elaborately rolled up hair. It was fitting for the EKO FOR SHOW edition.
We arrived the lovely Carima d Laurent's nail place for the shoot and our second subject fashionista/boutique owner Vivian Chiologi had gone AWOL, fortunately Stylist Ifeoma Williams was passing through and as she is always camera ready and fun to talk with, she made a great substitute. I am sure Ifeoma goes to bed perfectly put together.
From Nail place we went to Auto Lounge to film the Bentleys, shame I couldn't drive one. Carima and I met the exotic store manager who looks and sounds like an East European runway model. I don't love cars but I like Top Gear and have fantasies of doing the guest lap and meeting the Stig.
From the Bentley shop we drove to Designers club on Awolowo road to talk with the effervescent owner Ndidi and Lighting expert Akin Ariyo who is the first man l ever saw in a wine coloured Oswald Boateng suit off the run way.
Afterwards, I changed and we met up with Senator Toks Afikuyomi, commissioner for tourism who took us on a tour of the smaller islands in Lagos. He has always is jolly and talkative. Filming at a tiny island with two guards was weird. Actually, filming this whole episode was weird as it is such a huge contrast to the life of many Nigerians. I suppose we are not just trying to capture the lifestyle of the tiny percent of the population living in this bubble but the aspiration of others to that somewhat unreal life.
Friday May 22nd 2009
My dad paid me a visit and told me a story of a couple in Badagry where he lives. It is such a medieval story and a far cry from what we had filmed two days ago. I wonder how long these extremes will continue to exist side by side and the possible break point. We finished the rest of the shoot on the famous Prest boat. Lagos on the water at night looks really beautiful.
Afterwards, I changed and we filmed the
abe igi
conversation with the three okada riders in front of Bonzai the upscale Japanese restaurant in Victoria Island. I cannot seem to get away from those extremes and the unease I feel so I decided to untie the knots in my stomach with a memorable night out with the boys to NEWSCAFE.
Eko for show
airs on
TWF
this Sunday 4th April on Africa Magic 6pm local time 7pm central African time.