About Me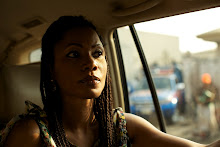 Funmi Iyanda

Lagos, Nigeria
Funmi Iyanda is a multi award-winning producer and broadcast journalist. She is the CEO of Ignite Media and Executive Director of Creation Television
View my complete profile
Saturday, April 17, 2010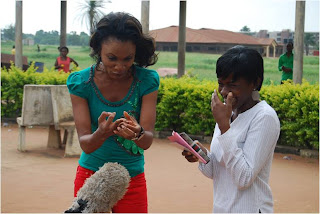 Still hibernating far from home and without my diary so I cannot remember the exact details of date and order but I remember the day we shot the Oba of Benin, hey back off you proud Benin people l did not shoot your Oba o. Cheap, l know
As I
mentioned
last week, I and Bayo had found a simple lace and gele outfit for the visit to the Oba and everyone had conflicting advice about how best to approach him, greet him and generally conduct myself before him. One thing l can tell you for free is that the people of Benin revere their Oba. The reaction is the same from market traders to university professors; in fact if you mention his name, they automatically say "Oba Gha to Kpere . . . . Ise"! So much so I was tempted to keep saying it to get same reactions over and over again in his court.
We arrived the Palace and were received by Abdul Oroh and a few chiefs. The compound was large and unremarkable except for the diversity of people hanging about, some to see the Oba, some to sell memorabilia and others to curry favours.
I had been told there was a part of the palace women were not allowed to go which of course was where l wanted to go but I am not quite crazy or daring enough.
Whilst waiting outside, I noticed that a lot of the chiefs going into the palace were eminent Nigerians from all works of life; I was fascinated by their half-shaven head and was told you could tell the rank of each chief by the extent of shaving and number of beads on him. There were no female chiefs.
After about forty minutes we were allowed into the court so we could position the cameras and lights, a tough job in a place we had not been allowed to Reece before hand, which turned out to be a small poorly lit over crowded room.
I was anxious and tense, a little confused by all the rules, regulations, ceremonies and wait, and believe me wait we did. We waited so long some of the guys dozed off and l got more tensed especially with the testosterone overload. Once in a while someone would come in from the inner room and everyone would jump to attention only to find it was not the Oba.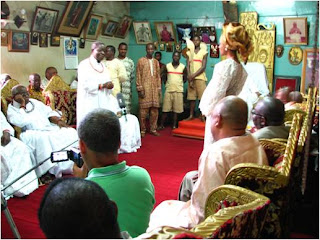 Eventually, an emissary came in and announced that the Oba was coming out, we all sprang to attention and thirty minutes later the Oba, lead by a youth (he is said to be a eunuch) came in to chorus of "Oba Gha to Kpere . . . . Ise".
I was enthralled, he looked older than his pictures and portraits but here was the famed Oba of Benin in touching distance. I had been told he would not speak to me in English but he began by belligerently asking in English that the boom mike (who dares put a body mike of him) be moved away from his stool and the light be repositioned and so on. My heart sank; this was not going to be an easy interview.
It was not easy, It was in fact a sparring match but I was determined not to back down so I switched into my dump blonde reporter mode, asking seemingly stupid questions with a bright smile and demure (I hope) disposition. He answered each question with a question or put down but as we went on l realized it was his style so I ploughed on. When I asked if any Oba had ever abdicated his throne there was a collective gasp and the man looked at me like l was a complete idiot, he did not answer. I was mentally having fun now. He had said he would only answer a few questions but an hour later I asked my cheeky question about the place of women in his court and got a mischievous reply. All in all I would not say I found the Oba charming but I would say I thoroughly deserved the comment whispered to me by one of the high chiefs as I left. He said, "You are a brave woman, good job".
On our third day in Benin we went to film the highest ranking female in the land, a woman whose role had been specially created by the Oba as women are not traditionally high chiefs in Benin. A very strange situation as Benin women are so strong and enterprising. I wondered what the correlation was between the unacknowledged central role of the Benin woman and the elephant in the room in every interview. The issue of human trafficking and international prostitution, which has an unfortunate Benin face. We went on to later film one of the most harrowing human trafficking story l have ever heard from a survivor who is now living with HIV but that is another diary.
The Iyeye of Benin was a lively personality living with a court of women. Said to be so powerful she is the only one who can intercede on an offender's behalf with the Oba, she was funny, regal but cautious and pained about the trafficking issue. The interview with her was strange, as we needed an interpreter who was one of her nephews visiting from America. It was weird hearing him go from his American English to heavy Benin. All these whilst the Iyeye sat on a round concrete slab throne When we finished, she presented us with cartoons of juice and biscuits and promised to find me a Benin husband by next year.
Then we drove to the famous Benin market to film the next bit. When our convoy of vehicles arrived, the market lead by the gun-wielding policemen, everyone took to their heels and the market emptied in no time. I vividly remember the man who quickly grabbed his two lovely children, bundled them into his old hatch back Peugeot and drove off, fast. I was mortified and I just wanted to pee, so Macho, one of the body guards lead me into a house where everyone was peeping out of the window with one person pointing us in the direction of the outdoor toilet. What is it with us and toilets in this country?
It took almost an hour to reassure and persuade the traders and market goers to return, apparently there had been a recent raid and rumours of planned government restructure of the market so all those vehicles and the policemen set off their alarm.
The market shoot was great. I had always wanted to meet the famous female butchers of Benin and the women received me warmly asking after my daughter and complaining about the end of my old show. That market has everything on sale from food to clothes to animals dead and living. There were rumours of human body parts for sale but l did not see any such thing displayed.
I found the market women beautiful and funny and we left the market without any more incidence.
After the market I changed my dashiki top to a Deola Sagoe tee shirt and my flats to heels for a surprise visit to the famous university of Benin. The students mobbed me in no time and the dean of student affairs was welcoming.
However I could sense the tension on the campus and the dean advised that I should not stay too long as they do not encourage large congregations of students who are likely to come around once they know I was on their campus.
Fortunately it started to rain so we could not do much filming. However we still had a few busing over, in half an hour, we had over fifty young people gathered around and growing. I had a quick interactive session with the students and left the campus completely heartbroken.
I found the state of infrastructure awful but more worrisome was the intangibles. Just the way in which the place lacked academia. I thought it was my over sensitive over critical mind playing tricks on me until the DOP from Cape Town came over and said he found the campus depressing. I asked him why and he said he'd had a mental picture of what a university campus was typically like and what he saw was nothing like it, cinematographically unappealing and very sad indeed. I knew he was right, I worried about the students, I worried about the future but it was game night so I joined the boys at their hotel to watch the match.
It appeared Benin had a lot more to offer the boys than football and beer so I returned to my hotel wishing l too could numb my senses with a bit of company, alcohol and twenty two men running after a ball far away from here.
Emotan's Daughters airs on
TWF
tomorrow 18th April on Africa Magic 6pm local time 7pm central African time.
Also Talk with Funmi is now on Africa Independent Television (AIT) from Monday 19th April, 2010. 11pm Nigerian time