About Me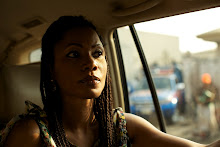 Funmi Iyanda

Lagos, Nigeria
Funmi Iyanda is a multi award-winning producer and broadcast journalist. She is the CEO of Ignite Media and Executive Director of Creation Television
View my complete profile
Friday, April 09, 2010
I often have to sneak in and out of the country to stroke my sanity. This is good. What is not so good is that I left my TWF diary at home. Yes there is an actual retro long hand written journal so l will have to do this week's diaries from memory.
Don't quote me but I seem to remember that we shot the first part with the priest of the feared holy Aruosa church on May 26th and the next part with legendary Victor Uwaifo next day.
The crew had driven 2 days ahead of us from Lagos whilst we flew into a very grey and depressing Benin late evening May 25th.
We had been informed that we would require additional security in Benin so the police commissioner had been very helpful supplying four fully armed police men in contrast to the plain cloth policemen we used in Lagos and the relaxed policemen in Ondo. The Benin security was tough, tight and very professional. They were also very humane and friendly, we were sad to part with them after the shoot but then I am jumping the figurative gun aren't l? The one point l must make tough is that the road trip showed me the potential of the Nigerian police if like everything else there was no issue of political corruption, poor funding, inadequate training, appalling salaries and work conditions.
Okay Funmi, stop digressing. We stayed at one of the best hotels in town but it was a shit hole, okay maybe l am biased because it was symbolic of the way in which past administrators had raped this once beautiful state. The entire city was rather jumpy and uptight; a point l made to the information commissioner, my old friend Abdul Oroh when we sat down to a delicious pounded yam dinner at his home. The governor Adams Oshiomhole was out of town so we could not talk with him.
On the morning of the 26th, Bayo and l debated what would be appropriate to wear to visit the Oba and to go to the Holy Aruosa church. Abdul had said that the Oba was cosmopolitan and l could appear there in trousers if l wanted to. I did not think agree, so l wore iro and buba with gele. I can tell you about the encounter with the Oba of Benin but that's another day's diary. We filmed the Holy Aruosa church after l survived my encounter with the Oba. Benin was getting on my nerves at this stage and my head was aching from the heat and the tight gele, which l took off and Bayo replaced with a wig.
After all the mystery and hushed tones l had experienced during the research about the holy Aruosa church, l had expected a much more impressive building but the church was pretty nondescript. To enter we were told to pay a "token" so we could speak with the priest. My impression of the priest is better kept to myself and l failed to see the mystery and mythic.
His stories about the origin of Benin would have been really special in a better-appointed edifice and if we didn't have to "drop something". The final straw was when l asked to use the toilet and was pointed outdoors to a corrugated iron sheet "
shit
in my face" contraption. Haba, you mean all the dignitaries who attend this church come here to stoop and pee on past pees?
The rest of the day was spent filming future episodes and searching for a decent meal in town.
Next day May 27th we filmed Sir Victor Uwaifo. Chris had come back from his technical Reece of the location the day before a little lost for words to explain what the professor's place is like. When we arrived to shot l understood. The place is a cross between a dungeon, a morgue and a museum complete with eerie sound effects and low lighting. In fact the only way we could shoot some of the rooms was with the EOS camera and it is impossible to recreate the mood and ambience of that place. It is something to be experienced.
Sir Victor himself is an energetic, enigmatic mad professor. A restless man of bondless energy and limitless creative expression. His home/museum is a monument to his talent, gifts, career and ego.
I wonder what he must be like in class when he lectures. A legendary musician, TV personality, prolific sculptor, artist, body builder, public administrator and university lecturer, he, his work and his home overwhelm.
We spent an entire day filming and he neither stopped for drink or food nor paused for breath, picking me up unexpectedly at one point like l was feather weight, don't go there!
We thoroughly enjoyed the time with him and l marveled that they don't make them like this anymore but also that sir Victor is one example of a few Nigerian aberrations, a mad unstoppable genius expressing him in spite or perhaps because of our often-chaotic existence.
Legends and Myths airs on
TWF
this Sunday 11th April on Africa Magic 6pm local time 7pm central African time.