About Me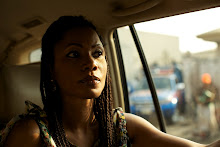 Funmi Iyanda

Lagos, Nigeria
Funmi Iyanda is a multi award-winning producer and broadcast journalist. She is the CEO of Ignite Media and Executive Director of Creation Television
View my complete profile
Saturday, March 06, 2010
Saturday, March 06, 2010
|
Posted by Funmi Iyanda
|
|
Edit Post
Monday May 18th 2009
Poor start. Everything fell apart at the back end so Kate (Henshaw-Nuttal) and Desmond (Elliot) waited over 3 hours before we started. Desmond in particular had left home 5am to arrive Silverbird at 6am for the 7am call time. We didn't start shooting till 10am.
They were both understandably upset and once Kate got it off her chest, they were impressively professional about it all. In fact they were great as it was a long, tedious, multi venue shoot in stressful traffic and hot, uncomfortable locations. I was boiling in my tee shirt and jacket combo and had to insist that I be allowed to take off the jacket but hold on to it in the shoot for continuity.
The Silverbird shoot part was straightforward once we got started although we were time pressured, as we needed to finish before the movies start showing. Idumota was wild, the heat, the market, the reaction of the people to Kate and Desmond, just wild. Kush the famed video marketer's office is beyond description and he was hilarious.
Kate was cracking us up in the car, she is just so funny and smart and Desmond is very keen and curious, always questioning the director and DOP about bits and pieces of technical stuff.
I had a tough time keeping them relaxed and calm through such a stressful shoot a well as keeping my wits about me to deliver a good job, we had been doing 14 hour work days non-stop for a few days and the strain was beginning to show. I felt dehydrated, slightly dizzy and tense but as I am not allowed to show any of these I had a vague feeling of suspension on numbness somewhere deep inside.
Winnies brought nostalgia as we ran into Jerry Onwordi, the original papa nothing spoil from NEW DAWN who was his usual mad bright slightly slushed self. It was also a reminder of how far I had come and why I must keep my chin up. The delectable and delightful Bimbo Akintola joined us at Winnies and she is as always a breath of fresh honest naughty air.
I couldn't help but feel a kindred spirit with these talented actors whose journey of following your passions, working a tough terrain and multi tasking to grow something great just so you can find fulfillment mirror mine so much. At Winnies, the old watering hole of Nollywood practitioners, we felt a silent unspoken bond.
The last bit with Tunde Kelani was not shot until weeks later after we returned from the other states by which time heat, discomfort, disorientation and pain had become allies.
Ebinpejo airs on TALK WITH FUNMI tomorrow Sunday March 7th on Africa Magic 6pm Nigerian time 7pm central African time.