About Me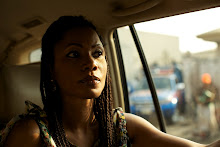 Funmi Iyanda

Lagos, Nigeria
Funmi Iyanda is a multi award-winning producer and broadcast journalist. She is the CEO of Ignite Media and Executive Director of Creation Television
View my complete profile
Tuesday, March 23, 2010
Tuesday, March 23, 2010
|
Posted by Funmi Iyanda
|
|
Edit Post
Damn! What a bloody Monday. Just lost my original beautifully crafted intro which l wrote bright and early before my usual fire fighting dramatic day starts. Well here l am in the midst of shit and in no mood to be lyrical.
I will hopefully be able to rewrite those thoughts later in the week but it was to introduce my TEDxEuston talk
video
which l had refused to post till l found the original script l delivered it from.
So here is the script and then the video, self indulgent yes, indulge me ;).