About Me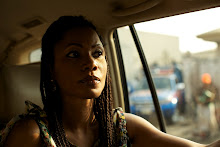 Funmi Iyanda

Lagos, Nigeria
Funmi Iyanda is a multi award-winning producer and broadcast journalist. She is the CEO of Ignite Media and Executive Director of Creation Television
View my complete profile
Monday, March 01, 2010
Monday, March 01, 2010
|
Posted by Mutiu Okediran
|
|
Edit Post
You threatened to hold Governor Mimiko of Ondo accountable to one thing and he spoke about maternal health care, has he done anything about it?
Yes, I got a message from the first lady after the show aired yesterday that Gov Mimiko had built and commissioned a free maternal health care clinic in accordance to the promise he made to me and that they are replicating it all over the state. I confirmed from my medical doctor friend that this is in fact true. We will be doing a follow up show in Ondo. This fact gladdens my heart because this is the real reason I do television, to give voice to all sorts of people, bring important issues to the fore, to influence change and have a bloody good time doing it all.
Did you pay Godwin for his palm wine? Was it as good as you made it out to be?
Yes I paid Godwin, he ensured itJ. Yes the palm wine was fabulous, sweet, and lethal.
Did Ebenezer fly and was he part of the praying group in the village?
Unfortunately Ebenezer did not fly, I do wonder why someone who claims he can fly cannot fix the shot put shitting problems of the village. I don't remember if he was part of the village prayer group but I am just as fascinated with the idea of getting our political leaders to swear on the gods of our lands instead of the bible and the Quran. The result may be very enlightening,
How can you go on TV in that mad costume and hair and without make up? What was that beautiful dress you wore at the state house?
I am propelled by the art of my profession not the artifice. I have no desire to look perfect, I desire to look authentic. I've also long lost the fear of what other people thought of my looks. That costume is one of my favourites from the entire series; it is mad and was great fun once I got into it. It was designed by model turned designer Alex Oni.
The hand painted caftan is a priceless, not for sale museum vintage piece by Deola Sagoe with the faces of some of Africa's most transformational leaders lovingly painted on.
Are you sure the characters where not actors and the whole setting looked so beautiful like a cross between a Cuban documentary and an Ogunde film
Wait till you see the coming editions, it gets even better and stronger. That is the genius of Chris Dada who is painstaking about every little detail and has a passion for casting real people and filming Nigerians settings beautifully. The village, hills, towns and people are that beautiful, we just have never learnt to look upon our selves and our land with love and attention. Ogunjimi's wife, Iya Tunde was particularly beautiful and her smile and teeth beautiful. The characters are all real people and credit must go to Ife Salako the assistant producer who found the village and the people. The village was not in our original show plan, I just had a brain wave based on nostalgia and the guys put the rest together. It is turning out to be one of our most well received editions.