About Me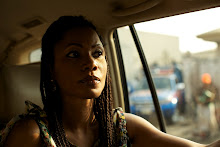 Funmi Iyanda

Lagos, Nigeria
Funmi Iyanda is a multi award-winning producer and broadcast journalist. She is the CEO of Ignite Media and Executive Director of Creation Television
View my complete profile
Friday, August 10, 2007
Friday, August 10, 2007
|
Posted by Funmi Iyanda
|
|
Edit Post
l beg no vex my people. l have spent the week in contemplative silence, first about my own future and the real possibilities of ever fulfiling my real potentials in this country. l did not want to blog and come across as the "angry black female"although my sister Chimamanda assures me that if the anger is justified then the label is not to be feared. What is there to be angry about? Not much really except that three of the hottest bars, hotels and clubs on Ozumba were robbed last Saturday with the open rape and abduction of a well dressed, corporate type woman in front of her weeping fiance. This is not hearsay, the lady who told the story still had scars on her legs and was shaken as she recalled how an entire bar was headed into a toilet with people trampling on each other and injuring the weaker and less fleet footed. In 10 days they have robbed two so called 5 star hotels, a major supermarket chain as well as 5 bars and clubs. None was reported in the papers as the places concerned had bought media silence to protect their business. The victims didnt report to the police in our usual culture of silence. They dont trust the police, dont believe they will get justice and want to avoid futher ridicule and shame. The robbries on the road and in traffic is of course norm now. To combact it all the police continues to arrest women in jeans because they are prostitutes, the rationale is that robbers lead immoral lives and follow prostitutes so if you catch the prostitues you catch the robbers. Of course all women who wear trousers, jeans or thin strapped blouses, form fitting long dress or above the calf dress and skirts are prostitues whether they are on the road or in their cars or busses and okadas. So are women out on the road post 9pm.
Why get angy at that when the largest most attended church in Nigeria the Redeemed Christian church has given tacit support to such by
banning trouser wearing women
from all their churches. There was this story of the new convert who came to a certain big church wearing earings and how he was mercilessly beaten by the church's morality police, a jouranlist friend was following the story until it was killed because the boy was threatened by the church, some church whose bus killed a child harrased the family into silence without so much as a condolence visit from the church overseer. All this before the convenant university began the compulsory, non consentual pregnancy and HIV testing on all graduating students. Why be angry when you see peity being used to disguise open and flagrant crime, corruption and depravity, after all our problems were caused and will be solved once we brow beat women (the original sin bringer) into barely seen, heard or considered existence.
Did many of the governors and government officials who lead services and contribute generously to church cofers in many of these churches not produce multiple children outside of wedlock in the past 8 years? Were those by immaculate conception? l cant tell you how many so called top pastors have hit on born again and sometimes married friends of mine in the past. l,m afraid l may be getting incoherent as l cant shake the deep sense of despair and worry about where it is this nation is heading. Its friday so perhaps l should lift the blues by going out to dance bata at a dance club...shoot! l cant, l may get robbed, raped or arrested for being female and daring to be happy.