About Me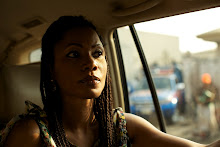 Funmi Iyanda

Lagos, Nigeria
Funmi Iyanda is a multi award-winning producer and broadcast journalist. She is the CEO of Ignite Media and Executive Director of Creation Television
View my complete profile
Friday, October 05, 2007
Friday, October 05, 2007
|
Posted by Funmi Iyanda
|
|
Edit Post
Once during the years I volunteered with the Strong Tower Mission, I visited the centre with
Rev Dele George
, founder of
little saints orphanage
to pick up an abandoned baby. She warned me about the deplorable condition of the place but nothing could have prepared me for the sight my eyes beheld.
A saddened colonial structure, standing dirty, sullen and quiet just a short turn off the chaotic Mushin end of the Abeokuta Express road. There on the left is a cell like structure with iron bars and a gaggle of miserable children huddled together. Children from a few months old to pre teens. Some crying, mucus running down the nose, some staring dejectedly whilst some watched an ancient black and white TV suspended high up the cage.
The place stank to the heavens, recent and aging urine and defecation mixed with unwashed bodies and the rancid smell of fear to produce a sickening olfactory assault.
As the officer in charge showed us the abandoned new born we had come to collect, I noticed a crying child, a toddler quieten and wipe the mucus with the back of his hand, then stretch out same hand to receive a plastic plate on which sat a ball of mashed up beans from an attendant.
As we left, I asked Mrs. George in alarm, are we going to leave them like that? We have to pick our battles Funmi she says, the officer in charge is a decent woman but there is very little she can do without resources. It is important we maintain a good relationship with the police so they cooperate with us in finding the children, bringing them and doing the paperwork for care and adoption. In any case they will never allow you bring a camera in here. We both agreed to send more materials to the centre and I silently resolved to get a reporter in there to tell the story in print. This was in 1997, the Abacha years; any criticism of governance was an act of treason.
For years the children of Alakara Juvenile Centre have haunted me. They come in all shapes, sizes and circumstance. Desperate, ill or demented parents abandoned some. Some are lost or missing, others are runaway children mostly from abuse. The centre should ideally be a half way home cum social welfare centre to rehabilitate abused or abandoned kids and return them to their families and in some cases to organized and recognized orphanages or even foster homes. The situation of the kids is sometimes so extreme that they require special care.
I monitored the centre for a number of years then simply forgot about it until recently when I heard about Margaret Ekpe. Tall, regal Margaret is the police officer in charge of the centre now. A former athlete and mother of three, she it was who got noticed by Stella Obasanjo (rewarded with a handshake and few wads of naira) on the chaotic Oshodi oke as the no nonsense traffic police officer who temporarily brought order to that hub of madness.
Margaret was transferred to the juvenile centre a couple of years ago and refused to be lulled into resigned complacency. The stories l have heard come from different sources of how she physically cleaned the place up spending her own salary, how she would go to the local market asking the women for food for her children and how she would fuel her own car and go in search of the families of the children until her car broke down and she started going by public transport by which l mean molue and danfos to unearth parents in places as far away as Ekiti oft armed with nothing but a sketchy address from a disoriented child. She removed the cage and separated the children and is trying to teach the attendants not to ignore, beat or harass the children. Children who include the 7 year old girl who was brutally raped by area boys , whose extended family does not want and whose irresponsible parents are separated and remarried to other people and therefore unwilling to be reminded of her existence. When the police commissioner noticed her diligence, he donated a generator and recommended her for a promotion, which would have taken her out of the centre, but she and others who know the story protested pleading that she be left to continue her swim against the tide.
The place is far from good, it is still a mess, but it is a mess that one woman is valiantly trying to clean up. It requires proper dormitories, food and clothing and supplies for the children, a vehicle, functioning telephone, volunteer doctors, child psychologists, nurses (who can all work from their bases as the children can be brought to them) and a committed citizens body or NGO who will monitor the activities at the centre.
Margaret, a poorly paid Nigerian policewoman, mother and wife is swimming hard and alone.