About Me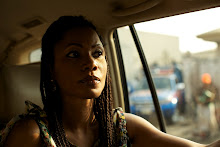 Funmi Iyanda

Lagos, Nigeria
Funmi Iyanda is a multi award-winning producer and broadcast journalist. She is the CEO of Ignite Media and Executive Director of Creation Television
View my complete profile
Wednesday, October 17, 2007
Wednesday, October 17, 2007
|
Posted by Funmi Iyanda
|
|
Edit Post
Location is one of those decaying pseudo elitist colonial leisure establishment that feeds the ego of the strangely wealthy but unaccomplished who gather periodically to fan the embers of nepotism and cronyism which guarantees their continued existence in the club of the rich and stupid. We have come to pitch an idea to a man so stupendously wealthy it is unreal. I know it is will not fly as the man probably hasn't got the foggiest idea what we are talking about and would feign indifference to hide his ignorance. He had asked for the meeting only because of my friend. Hers is a double FF cup and she is mixed race and based in London. Read top totty. As we waited for a response, some other such deep pocketed, distended stomach and dissipated bodies came in to much back slapping and lascivious "chop knuckles". The men had come in with a cache of the young, beautiful and lost; one was a Liberian "model".
Somehow the conversation turned to how highly desirable Nigerian men have become across the continent with the men thumping their chests Popeye like. Our "host" was wearing a $300,000 limited edition something or the other watch and boasting about his new home in Dubai. The others hailed him and started talking about their latest toys and sexual escapades. They then soundly condemned men from the rest of Africa calling them slackers and laggers. I felt it was my natural duty to point out that the reason Nigerian men were so popular is not because of their prowess but because they were notorious apa akotile danu (the mindless spendthrift who squanders the wealth of the family). Any fool with loose money can be happily dispossessed of such by anyone but look at what the men from some of those African countries with meagre resources are doing with their country. Look at Ghana, Botswana, South Africa, Cameroon and Egypt. When are we going to take the concept of greatness from the loins and muscles to the brain and heart? We did not get the job.
I am always alarmed to hear the way in which many men both old and young gloat about sexual prowess as a measure of greatness. As a male friend of mine said once, they talk about it with the same gleam in the eye and sense of accomplishment as he saw in a man who challenged the elements to cycle across Africa. I have observed even the lowliest of creatures and I see the way in which the male has sex with its females without much fuss or acclaim. Sex is good but sex does not a nation build, didn't one study show that Nigerian (read Nigerian men) have the most sex of all nations of the world. Stop grinning jo, are we not also top 3 in most corrupt, worse place to do business and live and other such dubious honours? If I were male (tufiakwa!) and I were of this sort of environment where the possession of a particular set of genitalia automatically qualifies me as a leader of all and master of universe, I would be terribly ashamed at the sort of nation I have built and certainly not go about draped in and defined by the toys made by thinking men of other climes or thump my chest based on ability to give pittance to young people whose options I have limited to have unbridled sex with my fat hairy arsed self!
Months later I am at a similar but spanking clean and well maintained establishment in a land far away, the men and women sitting around can buy my continent many times over. Most run companies, which produce the toys we so love but wore classic Seiko watches and actually listened as we talked. I asked an agile 55-year-old (thought he was 10 years younger) international media mogul what his hobbies are, oh I go rock climbing and surfing with my 25-year-old son he says. My friend's brilliant idea is now being implemented in another African country where the men do not exploit the young openly and strangulate the bright and gifted although sadly they are not quite as popular with women around the continent.